Introduction
This illustrated history of Homecoming at the University of Northern Iowa traces the origins of UNI Homecoming traditions and practices from 1920 to the current date. In order to show this development, this essay will present more detailed coverage of the early years than of the later years. This essay will also present some of the trends and highlights of Homecoming celebrations over the past eighty-five years.
Note on institutional names. The University of Northern Iowa has had four names: Iowa State Normal School (1876-1909); Iowa State Teachers College (1909-1961); State College of Iowa (1961-1967); and University of Northern Iowa (1967-present). This essay will use the name that is appropriate to the historical era under discussion.
Beginnings: 1920-1928
The origins of Homecoming as a college and university tradition in the United States are imprecise. For many years the celebration held at the University of Illinois on October 14-15, 1910, was cited as the first Homecoming. But a recent paper, published by the Archives staff of the University of Illinois itself makes a more modest claim. The authors of that paper state that other schools, including the University of Michigan, Indiana University, Northern Illinois University, and Baylor University, held celebrations that certainly resembled Homecoming before 1910. Most of those celebrations featured an alumni reunion and some sort of athletic event, typically a football game. Some included banquets, initiations, class competitions, or other activities. The University of Illinois Archives staff concludes that any claim to being first must be based on exactly what is meant by the term "Homecoming". Must it include just several traditional Homecoming activities, all of them, only a reunion and a football game? Depending on what one thinks the essence of Homecoming is, several schools can make a claim to being first.
Whatever their exact origins, Homecoming celebrations quickly became popular on college and university campuses. Both the University of Iowa and Iowa State University held their first Homecomings in 1912. The Iowa State Teachers College held alumni reunions for many years, but these reunions tended to occur primarily at the annual conventions of the Iowa State Teachers Association and also during Commencement Week.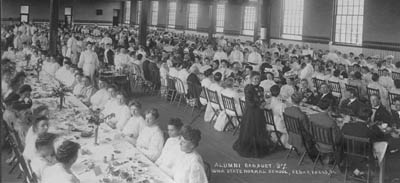 Alumni banquet in the East Gymnasium, 1907.
Likewise, many alumni attended Teachers College football games and other athletic events over the years. But student agitation for a Teachers College Homecoming celebration that would bring a reunion, a football game, and other activities together did not seem to surface until the spring of 1920.
In the March 10, 1920, issue of the student newspaper, the College Eye, two editorials praised the Student Council for considering a plan to hold a Homecoming celebration. One editorial stated that "This is the best move ever started in the Student Council and everyone interested in the future of our school should support this move in any way possible." The other editorial, probably written by student Harold C. Sheldon, said that alumni and students deserved an opportunity to get to know one another and to enjoy a football game together. He acknowledged that all student organizations would need to work hard for the first few celebrations until the tradition became firmly established. A week later another writer, probably Helen Draper, echoed these ideas. She thought that a Homecoming would be good for school spirit. She also thought that alumni would look forward to returning to campus to see former classmates.
By May 5, 1920, plans for a Homecoming were under way. The Student Council had appointed a committee to develop and promote a celebration. At that point the only sure thing on the program was a football game. Likewise, the Alumni Association, when it met in late May, appointed a Homecoming Committee. However, committees and plans are one thing; action is another. On September 22, 1920, the College Eye lead editorial was entitled: "How about Homecoming?" Apparently little of substance had been accomplished over the summer of 1920. Yet alumni, interested by the tentative plans announced in the spring of 1920, were writing to campus to ask when the celebration would be held. The sticking point in local arrangements seemed to be finding a time when alumni could come to campus on a weekend when there was a home football game. As the editorial said, "A Homecoming without a football game wouldn't seem just exactly right--something like bread without butter." The Thanksgiving weekend would have been good, except that the football team played at Iowa Falls then.
Finally, on October 20, 1920, the College Eye announced that Homecoming would be held on Saturday, October 30, just ten days later. The program would consist of a "monster pep meeting" on Friday, October 29, to be followed by another pep assembly on Saturday morning. At the latter assembly there would be cheers, "snappy talks", and reports from alumni on plans to build the Campanile. At noon on Saturday there would be picnics and then class reunions. At 3PM the Teachers College would play Parsons College, a strong opponent, in football. On Saturday evening there would be an all-college party in the East Gymnasium, with one, or possibly two orchestras to accommodate an anticipated crowd of two thousand people.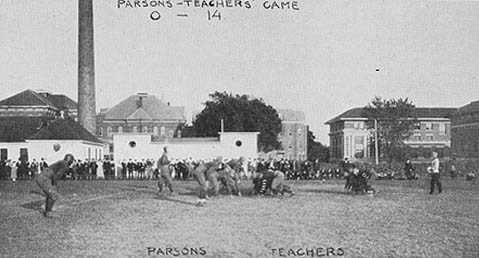 In 1920, in its first Homecoming game, Teachers College defeated
Parsons College, 14-0; the field is on the current site of the Rod Library.
The first Homecoming went well. Teachers College defeated Parsons College on a muddy field, 14-0. About 225 alumni, and a large number of students, enjoyed the pep assemblies, meals, game, and big party. Considering that the program was put together very late, students deemed the whole event a great success. But just a week after the first Homecoming, they stressed that "It is not too soon to being laying plans for the next one."
Warnings are not always heeded. The September 14, 1921, issue of the College Eye reported that the date for the second Homecoming had not yet been set. The Student Council of 1920-1921 had chosen October 15. But the Athletic Association wanted October 29. The school was waiting to see if the 1921-1922 Student Council would affirm their predecessors' decision or defer to the Athletic Association. Apparently the Athletic Association prevailed; Homecoming was set for October 29 with Upper Iowa as the football opponent.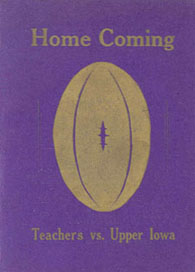 Homecoming football program cover, 1921.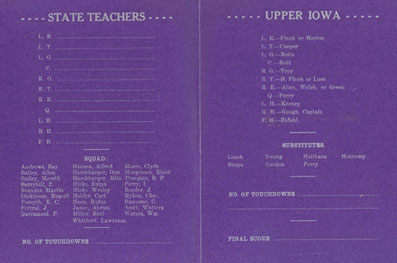 Homecoming football program, 1921.
With a little more lead time this year, students and College Hill merchants and landlords decorated their cars, businesses, and boarding houses before they enjoyed the Friday and Saturday pep rallies. The College Eye went so far as to publish a special, heavily illustrated Homecoming issue for students and returning alumni. Rainy weather hindered outdoor activities; the football game ended in a scoreless tie. But again the weekend was deemed a success, with several hundred alumni returning to campus for the events.
The date for the third Homecoming--October 20-21, 1922--was already set by the Student Council in May 1922. There were the usual pep rallies, but this year featured the first Homecoming parade, a relatively short jaunt around campus.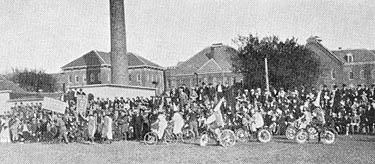 An early Homecoming parade, parked on the
current site of the Rod Library.
It is unclear exactly what was in the parade, but several rough notes indicate that at least some students in the parade lampooned their professors. The football team responded with a tough 7-6 victory over Simpson College.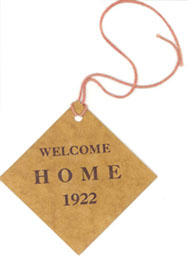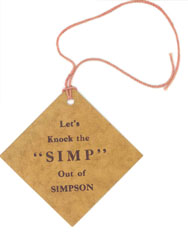 Front and back of 1922 Homecoming tag.
The fourth Homecoming was set for a very late date, November 23-24, 1923, because athletic officials had only scheduled the one Saturday game on November 24. The Student Council, which was responsible for organizing and financing Homecoming activities, was unhappy with the situation, but they made the best of it. Due to the unpredictability of the weather at that time of year, there was an emphasis on indoor activities. President Seerley's Homecoming address to alumni, as well as pep talks by Coach Mendenhall, were broadcast over the radio. One of the highlights was an indoor carnival with booths run by student organizations and literary societies. The on-campus parade this year was run by first year students.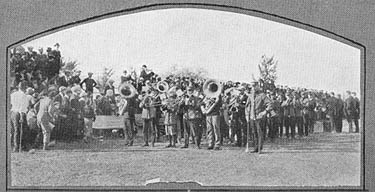 An early Homecoming parade.
And for the first time there was a Homecoming queen, Evelyn Arquette, or, as the title was then, Miss ISTC. The many innovations of the 1923 Homecoming were overshadowed by the 6-2 Teachers College loss, in a sea of mud, to Western Union College, thought by some to be an unworthy opponent.
The fifth Homecoming was set at a more traditional time, October 17-18, 1924. The Student Council presented what was emerging as a traditional array of activities: a pep rally and bonfire, with coffee and hot dogs; a "raid" on downtown merchants; alumni gatherings; a house decoration contest; a parade around campus; the game; and a dance. The weather was beautiful. A large crowd attended the dance, featuring two orchestras. But the football team lost to Simpson College, 13-0.
Homecoming seemed to be settling into a recognizable pattern by the sixth celebration in 1925. In fact, it had become enough of an established tradition that the College Eye wrote a retrospective article on the first celebration in 1920. That celebration had been arranged at the last minute and was much simpler than what Homecoming had become by 1925. The article recalled with gratitude the hard work that went into the foundation laid by the organizers of that first celebration. The 1925 Homecoming issue of the College Eye observed that nearly fifty Teachers College faculty were also Teachers College alumni. That meant that they could celebrate their college Homecoming right on campus and also be available to greet returning students. The usual schedule of events went well, and the football team made a nice comeback to defeat Luther College, 20-9. In his Homecoming address, President Seerley outlined what he considered to be the purposes of Homecoming. He believed that Homecoming was held primarily for two groups: the students and the alumni. He believed that alumni could teach students lessons on understanding human relationships, exercising leadership, and following a vision. When asked by a College Eye reporter what they liked best about the 1925 Homecoming, most students took a less serious view. Several liked the "raid" on downtown businesses best. And one liked the display of school spirit. But all the rest liked the football game best.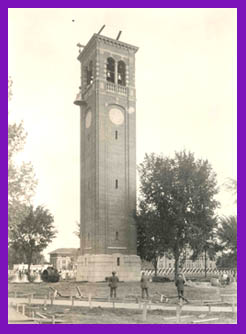 Construction on the Campanile was nearing
completion for Homecoming 1926.
The seventh Homecoming, in 1926, also went well. On the Wednesday before Homecoming, students sold Homecoming tags to help finance the celebration. And, for the first time, the celebration had at least an unofficial theme, "The Spirit of Fifty Years", to commemorate the fiftieth anniversary of the college. Visiting alumni could view the Campanile, which was nearing completion just west of the football field. The Ladies' Band and the Varsity Band performed between halves of the football game, from which Teachers College emerged victorious over Buena Vista College, 34-0.
Homecoming number eight, in 1927, was unusual. For the first and only time, the Homecoming football game was played on a Friday, in this case on Armistice Day, November 11. Student opinion, at least among those questioned by a College Eye reporter, was strongly against a Friday date. Students pointed out that alumni would have great difficulty in getting to campus on a work day. One stated, with World War I having ended just nine years earlier, that Armistice Day should be reserved to honor veterans. And one student thought that the scheduling was part of a sinister administrative plot to limit student vacation. Most thought that November 19, a week later, would have been a much better date. Whether student, and, possibly, alumni opinion had an influence or not, the college did schedule what it called a "Visitors' Day" for Saturday, November 19, 1927. But the official Homecoming date, November 11, 1927, was maintained. The two weekends ended up looking very similar. There was a pep rally, on-campus parade, football game, and dance on November 11. There was a house decoration contest, snake dance, football game, and dance on November 19. The football team defeated Upper Iowa University at Homecoming, 14-6, and Parsons College on Visitors' Day, 32-0, to complete an undefeated season.
The ninth Homecoming, in 1928, was late, November 10, but at least it was held on a Saturday. The late date had the virtue of giving students plenty of time to prepare for it. The College Eye noted that campus organizations were working hard to see that "there will be a continual run of activities during the waking hours of all."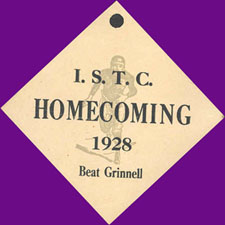 1928 Homecoming tag.
One activity that student leaders attempted to discourage was a "raid" or "rush" on the Regent Theater in downtown Cedar Falls. For a number of years, especially on the Friday before Homecoming, large numbers of students had marched from campus to the movie theater and forced their way inside, without paying admission. To a great extent, this was a matter that was understood and generally accepted by both sides. The theater manager knew that students were coming and did little to stop their forcible entry. It was just something that he occasionally had to tolerate in order to do business in a college town. And, except for entering without paying, the students generally behaved acceptably. But sometimes they did some damage to the theater or behaved badly outside the theater. Their conduct had been so bad in 1923 that the Fire Department had turned water hoses on them. Also, the theater lost revenue on these nights because no paying customer would attend when the house was packed with rowdy college students. On the more promising side, President O. R. Latham, who had just succeeded President Seerley, granted permission for women students to stay at the dance until midnight, rather than the traditional 11 o'clock deadline. Students apparently did not "rush" the theater that year, and other activities were successful. The Teachers College football team tied Grinnell College, 0-0, on a muddy field. And, probably for the first time at the Teachers College, an intercollegiate athletic contest in addition to the football game was staged at Homecoming. The cross country team won their meet against Grinnell College.
Refining the Form: 1929-1942
In 1929 the Homecoming parade left campus for the first time. It went north on College Street to Eighteenth Street, east on Eighteenth Street to Main Street, and north on Main Street to First Street. Downtown businessmen were asked to enter cars and floats in the parade. Under the leadership of the new band director, Myron Russell, both the Varsity Band and the Ladies' Band marched in their new uniforms in this long parade.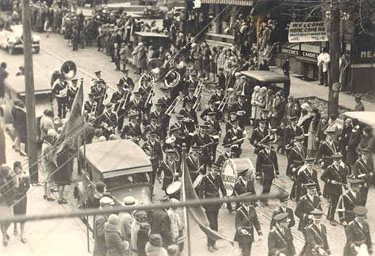 An early Homecoming parade, possibly 1929.
Also, the College Eye, under the direction of newly-hired journalism professor George Holmes, published an extra edition just fifteen minutes after the end of the football game. In another innovation, special religious services, including presentations by a large choir, were offered on the Sunday after Homecoming. Teachers College defeated Simpson College on a wet field, 7-0.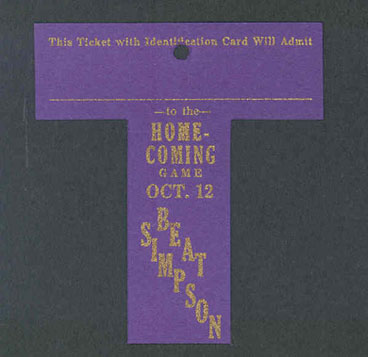 1929 Homecoming football game ticket.
This tenth Homecoming represents something of a high point or, perhaps, a point of departure for the Teachers College celebration. First, it was the last Homecoming before the onset of the Great Depression, which would bring severe financial difficulties and declining enrollment to the Teachers College. Second, 1929 was the year in which Myron Russell was hired to direct the college bands. The legacy of his extraordinary talent and innovative spirit remains to this day. And third, this was the first Homecoming that can be said to have been under the complete direction of President Latham. President Latham had arrived on campus in August 1928 and did indeed preside over the 1928 Homecoming, but Homecoming plans for that year had, for the most part, already been arranged when he arrived. The 1929 Homecoming arrangements bore his mark: there was extensive publicity, strong efforts to involve the Cedar Falls business community, and a general spirit that reflected the tastes and experiences of a younger, more modern man. When President Seerley presided over his last Homecoming, he was almost eighty years old. When President Latham presided over the 1929 Homecoming, he was not yet forty.
The 1930 Homecoming featured traditional activities as well as some of the innovations of 1929. Students got a preview of Homecoming activities at an all-school assembly. There were pep rallies, receptions, house decoration contests, dinners, and dances, and a short parade across campus.. A new women's pep club, the Tutor Belles, entertained at the football game, as did the bands. A stronger Coe College team defeated Teachers College, 13-2.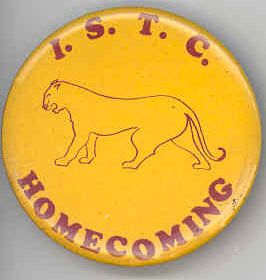 A Homecoming button from the 1930s.
To give alumni plenty of time to plan for a campus visit, and in contrast to the last minute arrangements of just a few years earlier, the date for the twelfth Homecoming, November 7, 1931, was announced in January 1931. And, with that kind of lead time, plans were ambitious. College officials expected three thousand alumni to visit campus. There was the usual Friday night pep rally. On Saturday, the band gave a concert on the Library steps and students and alumni from the Women's Physical Education Department played a field hockey match, the beginning of a longstanding Homecoming tradition. In the football game, Western State Teachers College (Kalamazoo) defeated Iowa State Teachers College, 14-0.
There were a few new things at the thirteenth Homecoming in 1932. In addition to the usual bonfire, open houses, receptions, and Sunday religious observances, the college theater faculty and students presented a dramatic production, The Scarecrow. A theater production became a regular part of Homecoming activities for many years to come. Campus buildings were decorated with new bunting of purple and old gold.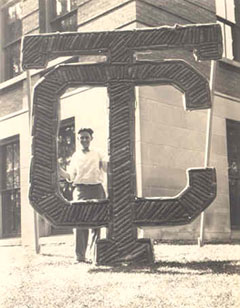 TC for Teachers College, Homecoming 1932.
And the Alumni Association, after a change in its constitution, held its annual business meeting at Homecoming rather than at Commencement. Dreary, rainy weather spoiled most of the outdoor events, including the house decorations, but spirits were brightened by a Teachers College victory over Morningside College, 12-0.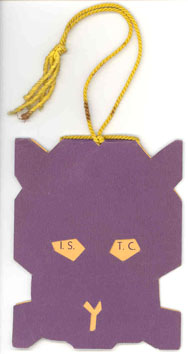 1932 Homecoming dance program cover.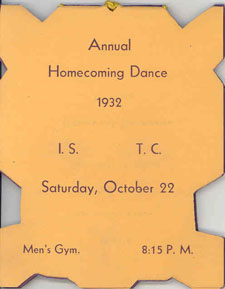 1932 Homecoming dance program interior.
The fourteenth Homecoming, in 1933, saw a major change in the location of many activities. With the opening of the new Commons, alumni meetings, several receptions, banquets, and the dance, were held in more gracious surroundings. Indeed, the new Commons, with its attractive facilities and services, was the centerpiece of the 1933 Homecoming. It would serve as Homecoming headquarters for many years to come. Alumni Services Director A. C. Fuller huddled with student leaders in an attempt to attract more alumni to return for the celebration. A Sunday music faculty recital, as well as a college theater production, provided additional entertainment. Unfortunately, Simpson College defeated Teachers College, 13-0.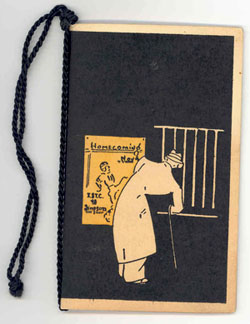 1933 Homecoming dance program.
Special attractions of the fifteenth Homecoming in 1934 included an alumni-student gathering in the Commons after the game and a display in local businesses of life-sized photographs of Teachers College football players. Professors H. A. Riebe and George Holmes, both camera hobbyists, prepared these big displays. Members of the American Legion and the 1924 football team were honored guests at the football game. Myron Russell arranged for the band to perform over WMT radio on the Friday before the game. A crowd of over three thousand was stunned when Grinnell College, which had lost its previous seventeen consecutive games, defeated Teachers College, 19-12.
Homecoming celebrations for the rest of the 1930s tended to follow the pattern established in the previous few years with just an occasional innovation. Pep meetings and a theater production were held on Friday. Saturdays included alumni meetings, luncheons, the football game, dinner, social gatherings, movies, and the dance. Sunday saw religious services and sometimes a faculty recital. A highlight of the seventeenth Homecoming in 1936 was the new football stadium, later called O. R. Latham Stadium.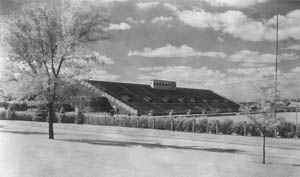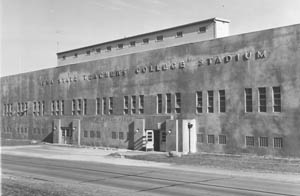 The 1936 Homecoming game was played in newly-constructed O. R. Latham Stadium.
The old football field grandstands had been destroyed earlier that year in a summer storm. In 1936 the Teachers College freshman team played Coe College freshmen on the new field prior to the varsity game. In 1938 the Marching Band, consisting of both men and women, performed before a Homecoming football crowd of over five thousand.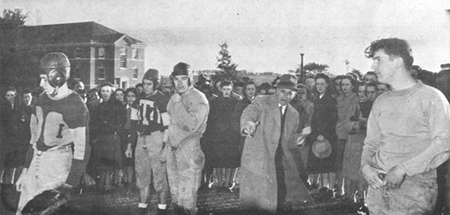 Professor and former Coach Paul Bender (just right of center)
leads cheers at the 1938 Homecoming pep rally.
At the twentieth Homecoming, in 1939, several old customs were revived. Blue Key, a service organization, brought back the parade through Cedar Falls, the first in ten years. In addition, the I-Club, the campus letterman's group, announced the I-Club queen at half-time of the football game: although her title was officially "Miss ISTC", Eleanor Collman was the Homecoming queen for 1939.
The 1940 Homecoming saw the dedication of the football stadium in honor of President O. R. Latham, who died unexpectedly in July 1940. President Latham had been a strong supporter of Teachers College athletics. It was largely through his efforts that the stadium had been built, in a difficult financial climate, after the old grandstand was destroyed. Cut Day also seems to have originated in 1940. According to this custom, sometime on the Friday before Homecoming, the bell in Old Central Hall would ring, the band would march through classroom buildings, and students would be given a holiday from class. New President Malcolm Price and Dean of Women Sadie Campbell led a snake dance to conclude 1940 Homecoming activities. It was a successful and happy Homecoming, despite President Latham's recent, untimely death. Enrollment had begun to climb to levels approaching pre-Depression levels. The campus had been nicely landscaped. The college had a new Commons, a new electrical system, a newheating plant, and two new men's dormitories. Things were generally looking better.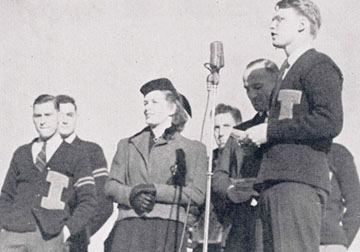 The I-Club introduces 1940 Homecoming queen Muriel Dirks.
By the twenty-second Homecoming in 1941, just two months before the attack on Pearl Harbor, the prospects for direct US involvement in the war were becoming clearer. There was the usual full range of activities including a Cut Day, pep rally, women's field hockey match, parade, dramatic production, open houses, dance, and football game. But at the football game, supplementing the usual flag-raising ceremony, there was a two minute tribute to Teachers College students and alumni who were already in military service. In addition, those who appeared at the football game in uniform were admitted free of charge.
In 1942, though their ranks were thinning, there were still enough men on campus to field a football team. So, there was a Homecoming celebration. This celebration began with Hobo Day on the Friday before the game. Students and faculty wore their oldest, most ragged clothes to class, meals, and evening activities. An informal spirit was encouraged for all activities. A student variety show replaced the traditional dramatic production this year. At the football game, the band's program of formations was called "Uncle Sam in Review". Teachers College won this game against Morningside College, 26-6.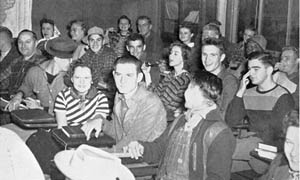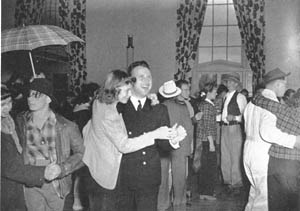 Classroom and recreational activities on Hobo Day, Homecoming 1942.
Traditional Collegiate Homecoming: 1945-1964
Homecoming was not celebrated in 1943 or 1944 due to war time stringencies. Military obligations claimed most of the men at Teachers College. Rationing of gasoline and other products made travel difficult. WAVES and Army Air Force training detachments were quartered in several campus buildings. And it is likely that people were not in the mood for college celebrations. Cut Day was held October 27, 1943; students spent the day raking leaves on campus. And, in 1944, Greek organizations invited their alumni back to campus for smaller gatherings.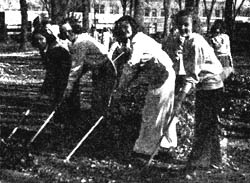 Women raking leaves on Cut Day,
October 27, 1943.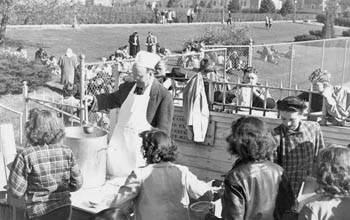 Professor Leland Sage serves chili to hard-working
leaf rakers, October 27, 1943.
All-college Homecoming celebrations returned in 1945. Some Homecoming practices were a little rusty. For example, should Cut Day be held just before Homecoming or at some other point in the school year? And, would the old method of selecting a Homecoming queen still work? Traditionally, the I-Club elected the queen, but there were only three members on campus in the early fall of 1945. Despite questions like this, Student League Board and other student organizations put together a broad range of Homecoming activities: a pep rally, a play, lots of receptions, dinners, open houses, a football game, a dance, and chapel services. A combination Cut Day and Hobo Day was held on Friday. On Saturday the Teachers College defeated South Dakota State College, 58-7. There was no official theme for the 1945 Homecoming, but the clear message of the entire program was "Welcome Home".
President Price called the twenty-fifth Homecoming, in 1946, the one that everyone had been waiting for. Students had worked hard in the previous year to put together the 1945 Homecoming, and it had been successful. But many veterans, especially those in the Pacific theater of war, had not been released from service at the time of the 1945 Homecoming. And many who had been released had not had time to get their lives back into order by November 1945. Consequently, it was not until 1946 that things were getting back to normal. The 1946 Homecoming was a big show. First, organizers began the fairly consistent practice of assigning a theme to the events: this year it was "Homecoming of the Veterans". Prior to this, themes had occasionally been assigned, but they had been coincident with larger campus celebrations.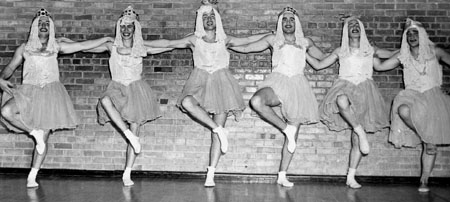 Men form a kick line at the veterans' variety show at the 1946 Homecoming.
In 1946 there was a dramatic production, a pep rally, a snake dance, an "all-girl" variety show, a veteran's variety show, the band performing in new uniforms, house decorations, a Homecoming queen, a dance, and religious services. In a throwback to the defensive struggles in Homecoming games of the 1920s, Teachers College tied Western Michigan College, 0-0.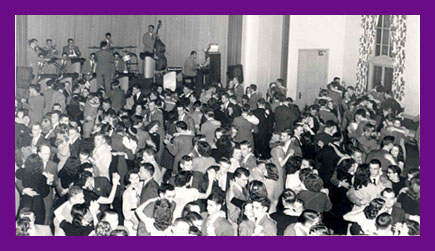 1947 Homecoming dance.
The parade returned in 1947, with thirteen floats, but its route was confined to campus. About 3500 alumni visited campus, though rainy weather dampened spirits. In an editorial following Homecoming, the College Eye called it a "Rugged Homecoming." While the writer was glad that so many alumni visited, he or she also noted that large numbers of students went home for the weekend, the Commons Ballroom was overcrowded with six hundred couples trying to dance, and vandals had done about $100 in damage to Homecoming decorations. Teachers College defeated Morningside College in a downpour, 31-13.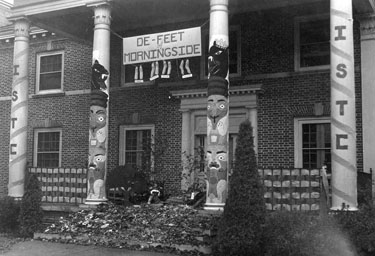 1947 Homecoming decorations.
There were several noteworthy highlights to the twenty-seventh Homecoming, in 1948. Members of the 1898 Iowa State Normal School football team that had defeated the University of Iowa were introduced at the game. Also, Olympic wrestlers and Teachers College alumni Bill Koll, Gerald Leeman, and Leroy Alitz were honored. And, instead of a play or a variety show, the Robert Shaw Chorale performed on campus on Saturday night. This was probably the first instance in which performers from outside campus provided Homecoming entertainment.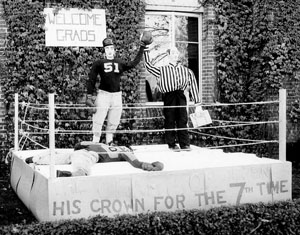 1949 Homecoming decorations.
The twenty-eighth Homecoming, in 1949, brought several significant changes. First, the I-Club queen was selected from photographs submitted by student organizations to the I-Club. And second, the football game was played at night for the first time. This meant that the scheduling of certain events, especially the dance, had to change from previous practice. What had previously been a relatively formal dance became an informal dance after the game. In keeping with the 1949 theme, "The Home of Champions", the walkway from the Campanile to the West Gymnasium was decorated by a committee led by Professor Thomas Larkin of the art faculty. Whether it was the lights, team spirit, or the quality of the opponent, Teachers College defeated Augustana College of South Dakota, 49-0.
In April 1950, Homecoming Committee chair Paul Bender solicited students for ideas on the theme of the twenty-ninth Homecoming celebration. Ultimately, the committee selected a timely theme, "Half-Time of the Twentieth Century". The football game was again played at night, so the dance and a variety show were moved to Friday evening. In his first Teachers College Homecoming, President J. W. Maucker crowned Lucile Hilger as queen. The music faculty concluded the weekend with a Sunday evening concert. Drake University, led by offensive star Johnny Bright, defeated Teachers College, 34-18.
1951 was the seventy-fifth anniversary of the founding of the Iowa State Teachers College, so the Homecoming theme was "75 Years of Teacher Education". For the first time in many years, probably since 1940, the parade left campus. The route began near downtown Cedar Falls, wound through town, and ended up on campus. Good crowds lined the route. Over eight hundred visitors took guided tours through the buildings.
The thirty-first Homecoming, in 1952 was held on the weekend on which Halloween fell. In order not miss a party occasion, some student organizations held their Halloween celebrations early. The parade again went through Cedar Falls. There was no Cut Day, but the program of activities this year included both a play and a variety show. The football game, a 34-20 loss to the University of South Dakota, returned to Saturday afternoon, and the dance returned to Saturday evening. The 1927 football team was honored at the game.
The 1953 Homecoming was an enjoyable, spirited affair. First, there was a strong and memorable theme, "Panther Prowl". Then there was a complete array of activities: pep rallies, parade, two performances of the variety show, three performances of the play "Harvey", a queen and her court, and a strong victory over Morningside College, 34-20.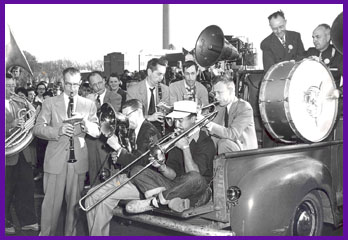 Student and faculty pep band, Homecoming 1953.
But there also seemed to be sense of relief that students had managed to keep themselves under control, though barely. Reports in the College Eye indicate that students in the men's residence halls were itching to do something disruptive, probably a panty raid, during Homecoming week. Their plans for Cut Day before Homecoming were thwarted, and they were frustrated. So, after being calmed down at least a little by a residence hall director late Sunday evening, they marched to Lawther Hall and gave the women an early morning serenade.. Then they went to President Maucker's house to demand a Cut Day on Monday as a reward for the 34-20 Homecoming football victory over Morningside College. President Maucker explained that it was not within his authority to declare a class holiday. The crowd left reluctantly, and there was no further mischief reported.
The thirty-third Homecoming, in 1954, did not have a theme, so floats and decorations did not need to reflect any particular topic. Float builders, however, were required to keep their total expenses under $25. Probably based on their 1953 experience, college officials did allow a half Cut Day on Friday afternoon for a pep rally and an all-college picnic.
The biggest change for the 1955 Homecoming was in the method of selecting the queen. Until this time, the I-Club, made up of Teachers College lettermen, selected the queen. But already in the fall of 1954 there had begun to be dissatisfaction with this process. In 1955 the Student League Board decided that the process would change. The I-Club would select nominees, but the queen and her court would be selected by a popular vote of the entire student body. Betty Vance was the first Homecoming queen elected in this way.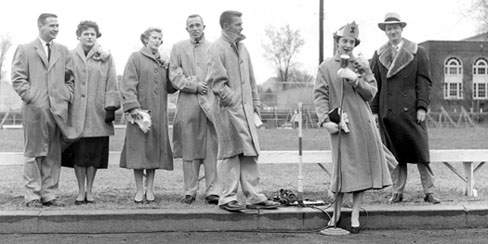 1955 Homecoming queen Betty Vance, at the microphone; President Maucker on the right.
The special Homecoming edition of the College Eye ran a complete schedule of activities At least thirty-eight organizations--religious centers, Greek organizations, departments, and others--held receptions, coffees, teas, lunches, dinners, banquets, or other gatherings. This schedule shows that Homecoming in the 1950s was an intensely social affair for students and alumni. The College Eye also reported that about two hundred men participated in what was probably a panty raid on the Wednesday before Homecoming. In more destructive activity, several windows were broken, screens were damaged, and the goal posts on the practice field were torn down. Four students were suspended for their involvement in this activity.
In 1956, for the thirty-fifth Homecoming, the Homecoming Committee, headed by Len Froyen, again asked students for their ideas on a theme. The committee, probably considering that 1956 was a Presidential election year, chose "Campaign for Victory". A week before Homecoming, a College Eye editorial remembered the 1955 student suspensions and offered the following advice to would-be rowdies: "Enthusiasm is fine. But don't overdo it." The usual round of Homecoming activities, including an officially sanctioned Cut Day on Friday, took place without unfortunate incident.
The 1957 celebration was the Homecoming that almost wasn't. Campus organizations and officials made the usual preparations for a parade, variety show, dance, football game, open houses, and other events. But the same newspaper that carried the final Homecoming schedule also carried the headline: "Flu Bug Hits Campus!" The accompanying article noted that at least five hundred students had the flu and at least some were seriously ill. President Maucker had a difficult decision before him. Best advice on treatment of the flu included rest and avoiding crowds. Those recommendations hardly matched conditions that would prevail during a campus celebration. Consequently, President Maucker met with other college officials and on Monday announced that the play, the football game, the chapel service, and the faculty recital would be presented as scheduled. But the fraternity sing, the variety show, the parade, and the dance would be canceled. Some students demanded further explanation. Those who were still unconvinced after President Maucker talked with them turned to destruction. They destroyed property and entered a women's dormitory after an unscheduled fire drill. President Maucker met with students again Tuesday evening, answered questions, and pled for consideration for those students who were really quite sick and needed peace and quiet. A spare, subdued Homecoming followed.
The thirty-seventh Homecoming, in 1958, featured Cut Day again, with a nice range of Friday activities to start the weekend: the inter-fraternity sing, a pep rally, and the variety show. The pep rally was highlighted by the flaming letters I S T C, instead of a bonfire. But there seemed to a certain amount of dispirit about this Homecoming. College Eye columnist Diane Tenglin liked the play and the parade floats, but she did not like much else about Homecoming. She found most of the variety show mediocre, the pep rallies outdated, and cheering at the game quiet. She speculated that the Teachers College football crowd "wasn't fortified with alcohol like the one at Iowa." In addition, a College Eye editorial writer observed the changing nature of the Homecoming audience. The very name Homecoming signified the original purpose of the event: it was a time for alumni to return to campus. Earlier Teachers College Homecomings clearly demonstrated that purpose. Alumni reunions and opportunities for old students to meet current students were a primary purpose of the celebrations. The Alumni Association constitution had even been amended to require that the annual association business meeting be held at Homecoming. But by the middle 1950s, alumni events seemed to have become secondary. Certainly alumni still returned to campus, but their events seemed to be organized and held in a sphere apart from student events. The orientation of Homecoming seemed to have shifted to opportunities for students to show school spirit and have fun. The spirit of the 1958 Homecoming was not improved by a loss to Morningside College, 26-18. By no means did 1958 signal a complete and irrevocable change in Homecoming. Many students and alumni enjoyed the 1958 celebration and would continue to enjoy future Homecomings. Rather, some of the opinions expressed simply showed that changes more significant than the modification of queen election procedures were in the wind.
Rowdiness had become an unfortunate expectation for Homecoming. Before the thirty-eighth Homecoming, in 1959, President Maucker asked students to refrain from any sort of late night, mass demonstrations during Homecoming week and stated that damage to property, forced entrance into residence halls, disobedience to campus police, and other serious infractions would result in suspension from college. The Homecoming parade through Cedar Falls was especially good in 1959, with, if you can believe it, clowns directing traffic. Despite bitter cold weather, the football team defeated the University of North Dakota, 14-9. And, in a new effort to get alumni acquainted or re-acquainted with faculty, there was a buffet luncheon for alumni and faculty.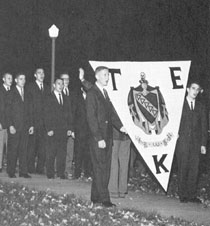 Interfraternity sing, Homecoming 1959.
When the 1960 Homecoming Committee selected its theme, "The Fabulous Sixties", it could have had no idea of the radical changes that this decade would bring. The Student League Board officially recognized, if not actually endorsed, the outline of disciplinary procedures announced by President Maucker in 1959. It is interesting to note that, by the end of the decade, these procedures would be the basis for dealing with student protests and demonstrations about much more serious issues. But for 1960, at least, Homecoming went well. Pranks tended to fall into the category of placing a For Sale sign on the Campanile rather than breaking windows. President Maucker stated that it was the best Homecoming in ten years.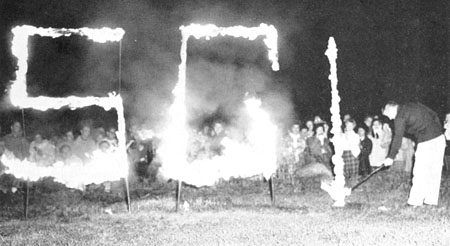 Homecoming pep rally, 1961; the first celebration as the State College of Iowa.
In 1961 the Iowa State Teachers College became the State College of Iowa. Consequently, the Homecoming theme was "The SCI's the Limit". The theme of the Homecoming dance was "SCI Rocketing". At the pep rally for the fortieth Homecoming, the flaming letters were S C I instead of I S T C. Activities in this celebration, such as the Marching Band's performance at the football game, honored past graduates of the Teachers College and future graduates of the State College. There was the usual parade with clowns, a dance, a chapel service, and many other activities. The State College of Iowa defeated Augustana College, 34-6, before a crowd of 6500. In one grumpy note, a College Eye editorial writer reported that no one seemed to know the words to the Loyalty Song and that the cheering was very quiet.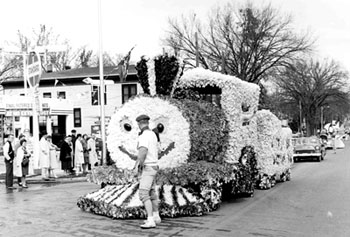 1962 Homecoming parade entry heading up College Hill.
The 1962 and 1963 Homecomings were practically carbon copies of 1961. There were similar programs, and things went well at each celebration. In fact, the 1963 celebration was cited as a model of coordinated campus planning.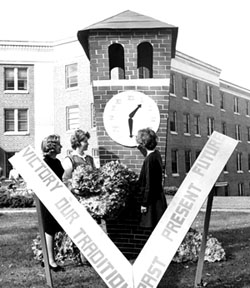 Campbell Hall Homecoming decorations, 1963.
The forty-third Homecoming, in 1964, loosened up just a bit. Students enjoyed a Cut Day with a picnic lunch near the Commons on Friday. The parade, whose beginning was announced by aerial bomb fireworks, included three Grand Marshals: President Maucker, Dean William Lang, and Professor Daryl Pendergraft. Since the theme was "Olympics on the Hill", the traditional bonfire was lit with flame reportedly from the 1964 Olympics torch.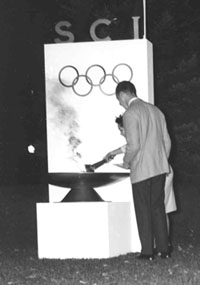 1964 Homecoming Olympic torch.
In an amusing sidelight, the student government presidents of State College and Morningside College, the Homecoming game opponent, each agreed to drop his pants at the fifty yard line if his team lost. State College defeated Morningside College, 24-14, but the Morningside student president was nowhere to be found after the game. Student League Board leaders were praised for curbing problems associated with Homecoming, which seemed to be limited to a few men entering Lawther Hall and a short-lived food riot in the Commons.
Changes and New Beginnings: 1965-1976
1965 brought an interesting change in scheduling. The parade was shifted to Friday night to allow for more alumni receptions on Saturday morning. The parade was followed by a pep rally and bonfire.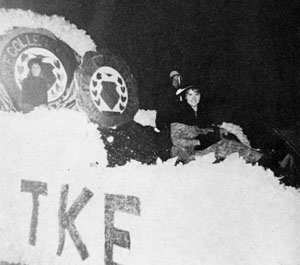 1965 Homecoming parade was held at night.
The theme for the year, "SCI-Lites", remembered historical events associated with the college. Parade floats did a good job of reflecting this theme, with one student wearing a gown that had originally belonged to Clara Seerley, President Seerley's wife. Another float depicted the fire that had recently destroyed Central Hall, the first building on campus.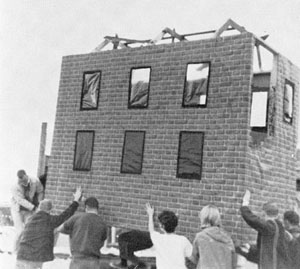 The Nu Sigma Phi float remembered Central Hall,
which burned in 1965.
Probably for the first time since 1929, there were no on-campus chapel services on Sunday. This was both a sign of the times and a practical matter. Since 1926 the College Hill Interdenominational Church had met in the Auditorium of what is now called Lang Hall. The membership of this church consisted primarily of college faculty and students as well as residents of the College Hill community. The pastor of this church was a college faculty member who taught classes and had responsibilities for campus religious matters. It was a convenient church home to many students who lacked transportation to downtown, denominational Cedar Falls churches. But by the middle 1960s, several things changed. The idea of having a church, even a liberal, non-denominational church, holding regular services on a public college campus was becoming harder to defend. Also, the resident leadership of the church was aging. And finally, increasing numbers of students had cars, so that transportation to downtown churches was less of a problem. In any case, the church did indeed end operations in 1966. Students who wished to attend services on Homecoming Sunday went downtown or to one of the many campus ministry centers on the north and east sides of campus.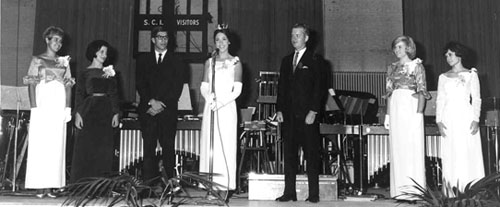 1966 Homecoming queen Inga Bartosch, at the microphone; President Maucker
on her left and Homecoming chair Bruce Eilers on her right.
The theme for the forty-fifth Homecoming, in 1966, "Homecoming Is . . . . " invited speculation. And at least one College Eye editorial writer picked up the challenge. After fumbling around a bit for the appropriate word to fill the blank after the theme, the writer settled on "orgiastic", certainly not a word that would have appeared in the newspaper a few years earlier. Another, or possibly the same writer also fussed about the usual statement disseminated to students by college officials about disorderly conduct during Homecoming. The writer claimed that the bureaucratic language of the message made it unclear exactly what was and what was not punishable behavior. And, in a true harbinger of what was shortly to come, the parade included a float about the Viet Nam War. The float depicted two medics carrying a fallen comrade, while a Vietnamese mother and child sat in the ruins of their home. The sign on the float read: "Homecoming is . . . Relevant?" One student associated with the float project said, "Some who attended SCI will never make it back to Homecoming. Students don't seem to recognize the reality." Certainly such sentiments were not universal on campus. A week later a student complained about the length of the article on the Viet Nam float in the College Eye. Both the Grand Marshall's Trophy and the President's Trophy were initiated in 1966. Perhaps needless to say, the Viet Nam float did not win any official prizes.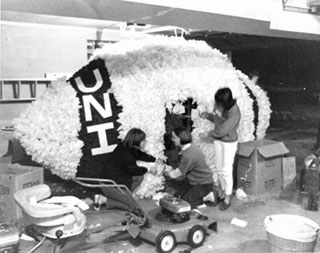 Preparations for the 1967 Homecoming parade;
the first as the University of Northern Iowa.
1967 was the first Homecoming under the school's current name, the University of Northern Iowa. The theme, "Something Old, Something New", looked both back and forward. The Homecoming parade was returned to Saturday morning to accommodate high school bands that wished to march in it. Most other traditional events remained in place: there was a queen election, a pep rally, a dance, and a sack lunch picnic. In their first Homecoming as the UNI Panthers, the football team defeated Augustana College, 23-10. One interesting addition to the 1967 Homecoming was a concert by the Sandpipers. Appearances by outside entertainers would become a regular feature of Homecomings in later years. This Homecoming saw an especially bad outbreak of disorderly conduct beginning even before Homecoming. Possibly referring to these activities, graduate student Scott Cawelti, who had performed with Bonnie Koloc and others with a folk group called The Rain's Children at the Homecoming queen's coronation, suggested a theme for the next Homecoming: "To Hell with Homecoming."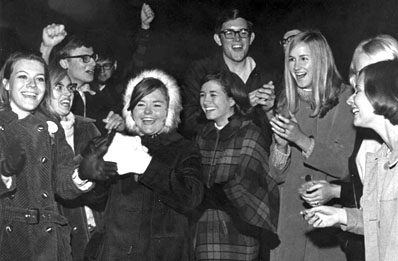 Celebrating the 1968 Homecoming.
Homecoming officials did not take Mr. Cawelti's advice. The theme for the forty-seventh Homecoming, in 1968, was "UNIverse in '68". President Maucker was obliged to make his usual early warning. He stated, "Last year we began Homecoming with shouting, cheering, and serenading but toward the last half of Homecoming week this had degenerated into mob action with attempts to break into university buildings, shouting of obscene epithets, and a close approach to violence." He explained that students needed to behave well if they expected state officials to help the new university get off to a good start. Students being students, a certain amount of rowdiness continued. Indeed, in 1969 the Northern Iowan published a poem entitled "Panty raid, panty raid, raise up the mighty call". In that same issue a woman student complained about the poor turn-out of men at the most recent panty raid on her residence hall.
The Homecomings of 1968, 1969, and 1970 had many of the traditional trappings: there were parades, variety shows, dances, open houses, queens, pep rallies, and football games. But there were significant shifts, as well as radical changes, in existing practices. Given the turmoil on college and university campuses in the late 1960s, it could scarcely have been otherwise. For example, there were still dances, but, where formerly the groups performing at the dances had names such as the Jules Herman Orchestra, the groups were now called the Rumbles, the Flippers, or the Night People. And, where formerly students looked forward dressing up to dance on an elegantly decorated dance floor in the Commons, now all they needed was an empty parking lot with electrical connections for the band. The occasional sniping at the practice of electing a Homecoming queen increased and came to a head in 1970, when minority students, who believed that they had been excluded from the process, elected their own Homecoming king and queen. Marilyn Nicol was the last official Homecoming queen. Michael Reed and Mary Adams were the minority royalty. The elections were officially discontinued after the 1970 Homecoming.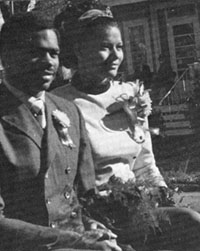 Michael Reed and Mary Adams,
minority royalty at Homecoming 1970.
But by no means was everything associated with Homecoming in the late 1960s unfortunate or controversial. Bed races were introduced in 1969 and students enjoyed the folk music hootenannies as well as music by outside performers. The Homecoming football games attracted large crowds; over nine thousand attended the 1968 game. Also at the 1968 Homecoming, the university dedicated a new set of bells that greatly increased the range of music that could be played in the Campanile. Students and alumni had the opportunity to see the inside of the Campanile when regular Homecoming open houses began there in 1970. Also in 1970, instead of the usual Skip or Cut Day, students participated in an Environmental Clean-Up Day.
Some students seriously questioned the value of Homecoming after the 1970 celebration. They maintained that few students participated in Homecoming activities. They found the queen contest disgusting. They believed that some of the activities, such as the variety show, were dominated by Greek organizations. They said that many students valued Homecoming only for the Friday Skip Day because that gave them a three day weekend at home. Nevertheless, the fiftieth Homecoming, in 1971, did go on as scheduled. The queen contest and Skip Day were gone. Most remaining activities were free and attempted to appeal to a wider audience. There was a $2.50 admission charge to a performance by The Association, but a film festival, a dance, campus-wide Olympic competition, coffee after the game, and a chicken dinner were free. There was a contest for lawn and window decoration and open houses in the residence halls.
The 1971 celebration seemed to set a pattern for Homecomings to follow. There seemed to an acceptance that Homecoming had changed. A small group of dedicated students and college officials would continue to work hard on the detailed planning required to put together a successful complex of events. Others, who found Homecoming an impossibly outdated custom, would ignore it. Most would pick and choose to participate in only the activities that interested them. But, in any case, Homecoming seemed destined to survive, and the quarreling parties seemed inclined to cease debate.
Homecoming celebrations in the early and middle 1970s included variety shows sponsored by Phi Mu Alpha Sinfonia as well as concerts by big name performers such as Country Joe McDonald, Helen Reddy, and Blood, Sweat, and Tears. There were parades and informal dances. The women's physical education students and alumni continued their traditional field hockey match. But there were some innovations. The annual trivia contests got started. The Towers Complex became the home of humorous "Olympic" contests that included bed races, car pushing races, mattress races, bat relays, tugs-of-war, and pie-eating contests.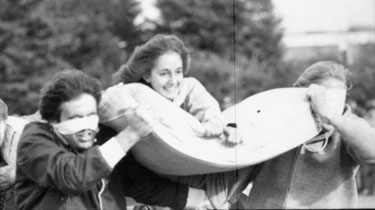 Mattress races at Homecoming 1979.
The swimming marathon tradition, which raised money for the swim team, began in 1971. And in 1972 there was a "social cocktail hour" at the Holiday Inn for alumni, faculty, and students. As much as President Seerley, who presided over the first Homecomings in the 1920s, wanted alumni and students to become acquainted, he would not have approved of this particular method. Nor would he have approved of the kegs of beer offered as prizes in the Towers Olympics. For that matter, given the changed views on alcohol in recent years, current college officials would probably also take a dim view of kegs as prizes.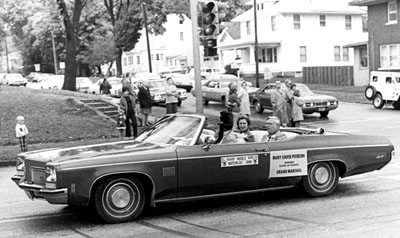 Grand Marshall Mary Louise Petersen rides in the 1973 Homecoming parade.
A certain amount of good spirit began to return in the middle 1970s. Perhaps it was the end of the Viet Nam War. Perhaps the campus was adjusting to its new role as a university. Perhaps it was just that there was good weather on Homecoming weekend. Whatever the reason, as early as 1974, Carol LeBeau, editor of the Northern Iowan, said in an editorial about Homecoming: "A record crowd swarmed the O. R. Latham Stadium gates, to join together in something they all believed in--UNI. And is that so bad? Is it wrong to be proud of what we have--to realize the UNI is really something to cheer about?" The 1975 editorial staff echoed those thoughts when they cited "the one thing we all have in common--our loyalty and belief in UNI."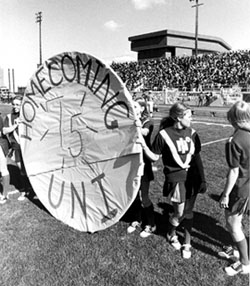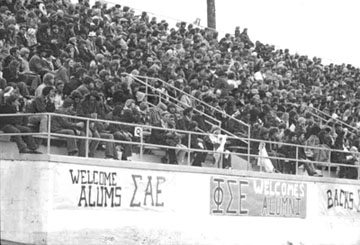 O. R. Latham Stadium, where Homecoming games
were played from 1936 through 1975.
The fifty-fifth Homecoming, in 1976, was special. The theme was "Excellebrate 100", commemorating the 100th anniversary of the founding of UNI. And, after forty years of Homecoming games in O. R. Latham Stadium, the Homecoming game in 1976 was played in the new UNI-Dome. The team responded to the yells of crowd of 14,200 fans with a big win over Morningside College, 37-7. Alumnus T. Wayne Davis, a strong supporter of UNI and the Dome, was Grand Marshall of the parade.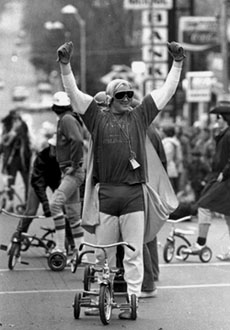 Tricycles roll up the Hill at the
1976 Homecoming parade.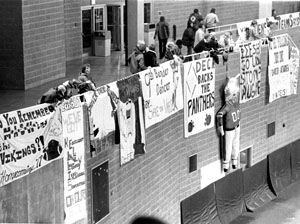 Banners in the UNI-Dome at the 1977 Homecoming.
Modern Homecomings: 1977-2005
There were no classes on the Friday of Homecoming week in 1978. It was not a revival of Skip or Cut Day. Rather, it was part of a short-lived academic calendar experiment that provided a fall mid-semester holiday. Students enjoyed picnics and the Towers Olympics on their day off.

The return of campaniling,
Homecoming 1979.
Concert performances continued to be a big part of the celebrations with Chicago and Pure Prairie League appearing around the time of Homecoming in the late 1970s. One notable tradition, campaniling, was revived for the fifty-eighth Homecoming, in 1979. Campaniling, kissing under the Campanile at midnight, had been a campus tradition at least as far back as the 1940s. However, it had fallen so far into disuse by the 1970s that probably few current students had ever even heard about it. The Alumni Association decided to bring it back. So, after considerable publicity, five hundred students gathered under the Campanile at midnight on Friday, October 5, 1979, to revive an old tradition.

Mass campaniling, Homecoming 1980.
Campaniling has been a part of Homecoming celebrations since then. On the darker side, there was a certain amount of vandalism at Homecoming in the late 1970s. Parade floats, particularly Greek floats, seemed to be target of arsonists.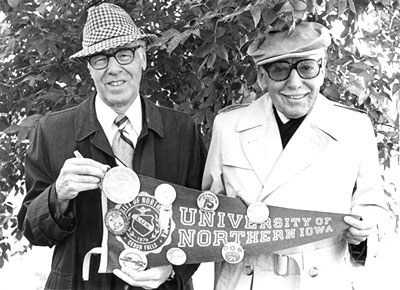 Professors William Lang and Donald Howard were
Grand Marshalls of the 1978 Homecoming parade.
During the early 1980s a few new things were added to Homecoming. Some came and went. Others stayed on the schedule for many years. The UNI Jazz Band played at several Homecoming dances during those years.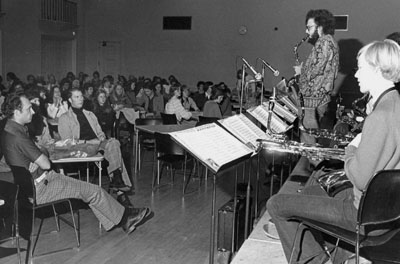 Jazz Band concert at the 1977 Homecoming.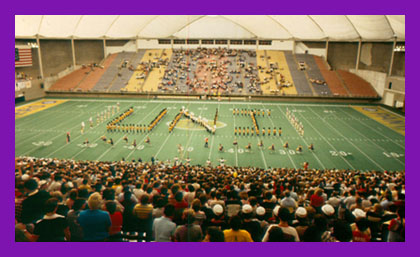 The Marching Band spells out UNI at Homecoming 1982.
Tennyson was another Homecoming dance favorite. The Towers Olympics included a "pignic" with a roasted hog in 1981. The Stacy Miller Scholarship Run became associated with the sixty-first Homecoming in 1982. That Homecoming also featured a presentation of "The Mikado", an exhibition of alumni art, and a memorable performance by Fleetwood Mac. As an example of Homecoming activities that have appeared, disappeared, and then re-appeared several times, Director of Facilities Planning Lee Thomson brought back the campus walking tour in 1982.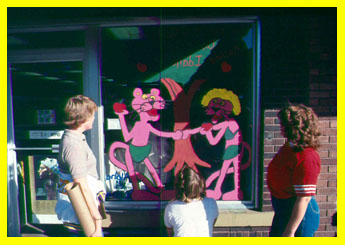 Window painting at the 1982 Homecoming.
1983 was the the first Homecoming for Coach Darrell Mudra, who guided his team to a 41-0 victory over the University of Wisconsin at La Crosse. A play and an art exhibition were again associated with Homecoming in 1983, the first Homecoming under the administration of President Constantine Curris, who turned some of his interest in good public relations to Homecoming.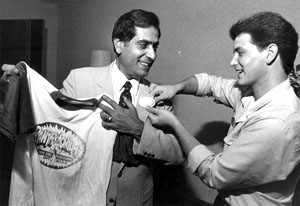 President Curris gets his Homecoming button
and T-shirt, 1984.
President and Mrs. Curris led the mass campaniling in 1984. They asked students to bring their own bells because the Campanile bells were under repair. Following the parade there was a tent barbecue lunch near the Dome. 1984 also saw the presentation of the first Lux Service Award to recognize outstanding service in undergraduate students. Diane Crane and Douglas Pearson, the first winners of this award, were honored in football pre-game ceremonies.
The sixty-fourth Homecoming, in 1985, included an impressive array of activities. New features that year included Book of Records competition and an athletics Hall of Fame banquet.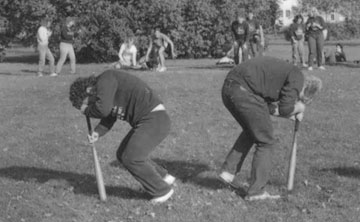 Book of Records competition at Homecoming 1985.
To some extent the pattern for the Homecomings in the rest of the 1980s resembled this Homecoming. There would be a pep rally, an impressive parade, a theatrical presentation, window painting, a variety show, a golf tournament, Lux Service Award presentations, an athletics banquet, campaniling, a dance, and a football game. From 1987 through 1989 there were Volksmarch events in which groups took ten kilometer walks around campus. Tailgating was popular, but by 1990 officials announced stricter rules for these kinds of parties because of increasingly rowdy conduct.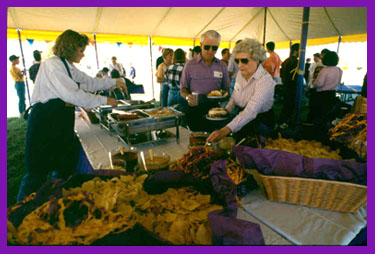 Alumni tailgating party at Homecoming 1990.
The sixty-ninth Homecoming, in 1990, added a feature that was a favorite for several of the following Homecomings. Comedian Ben Ulin performed at the 1990 pep rally. Comedian David Orion performed in 1991 and 1992. Several traditional Homecoming features were absent in 1991. The variety show was canceled due to a reported lack of talented acts. And, due to poor attendance in previous years, there was no dance. The variety show returned in 1992, but the traditional dance did not re-appear until 1997. 1991 did include at least one innovation: the Rowing Club staged a marathon session on a rowing machine in front of the Rod Library. There was a certain amount of controversy surrounding a proposed sumo wrestling event in 1993 in which contestants in inflatable suits would combat one another in mock sumo style. Some students believed that this would be culturally insensitive, and the event was not held.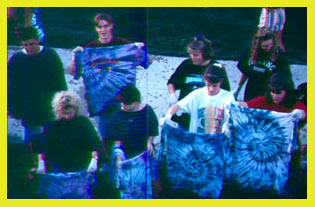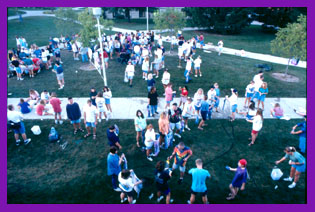 Tie dye mania, Homecoming, 1994.
The seventy-third Homecoming, in 1994, presented another good series of activities. There was a pep rally, parade, concert, and football game. Unfortunately, the 1994 Homecoming is now best remembered for a major disturbance on College Hill. In 1993, the Northern Iowan had interviewed College Hill bar owners and Cedar Falls Police officers. They all expressed confidence that there would be no problems. Bar-closing time put large numbers of people onto the street simultaneously. In previous years the crowds tended to disperse in fairly good order and temper. But 1994 was different. Crowds were reluctant to disperse and resisted the efforts of the police. After about an hour of sporadic fighting, police arrested nine people.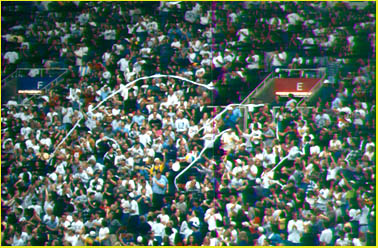 Homecoming 1996 football crowd.
Homecoming went relatively smoothly in 1995, but things got rough again in 1996. Whatever caused the disturbance on College Hill in 1996--and there was plenty of blame to go around--the results were discouraging. People were injured, property was damaged, and twenty-four were arrested. The violence occurred off campus, largely as a result of alcohol sold in private businesses, and many of those involved were not UNI students. But the tarnish to UNI's image remained. It was UNI Homecoming weekend, so UNI was associated with the incidents. Homecoming planning efforts since that time have been influenced significantly by the nasty incidents of 1994 and 1996. It is sad to say that the success of Homecomings since then has been measured, to some extent, by whether or not there was violence on College Hill.
Cedar Falls city officials, bar owners, and UNI officials worked together to study the 1996 disturbance and to find ways to avoid repeating it. Professor Paul Rider led this effort as chair of a Community Coalition. Cedar Falls officials attempted to find ways to deter crowd violence. Bar owners tried to control sales of alcohol to minors. UNI attempted to develop a program of activities that would be attractive alternatives to heavy drinking. The theme for 1997 was "Coming Together". The impressive program began with a service day on Monday; an international heritage day on Tuesday; window painting on Wednesday; a reggae band on Thursday; a bonfire, pep rally, and campaniling on Friday; and a parade, football game, a DJ, Bill Shepherd's Big Band, and acoustical guitarist Paul Wright on Saturday. The Saturday UNIght activities were advertised as "a non-alcoholic alternative for students and faculty who wish to participate in the post-game celebration." Following the parade on Saturday morning, Cedar Falls police blocked streets around 23rd and College Street to allow only pedestrian traffic. There were heavy police patrols and many video cameras. Police arrested about twenty and issued about ninety citations for relatively minor charges such as public intoxication. The campus alternative events were well-attended, and the football team defeated a strong Youngstown State opponent, 35-32. Students, college officials, and Cedar Falls officials were pleased with the weekend.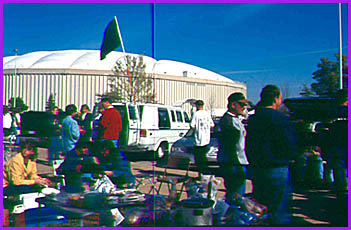 Tailgating party near the Dome at Homecoming 1997.
The Homecomings following 1997 followed a similar pattern. Police refined their tactics of crowd control, and UNI continued to develop an impressive array of alternatives to excessive drinking. In 1998 police barricaded College Street from Saturday until Sunday morning. They took a hard look at potential bootlegging activities off campus. UNI Public Safety officials issued a newsletter that outlined the university's policies on alcohol possession and tailgating as well as keg and noise ordinances. Rainy weather canceled UNIght activities, bars were packed, but only thirteen were arrested. Some of those who attended the football game, won by UNI over Cal Poly, 31-7, got wet when the new UNI-Dome roof leaked. And, reminiscent of early Homecomings, there was a cross county run.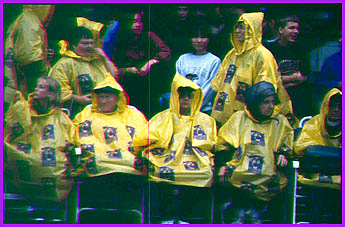 Panther rain gear was appropriate both inside and
outside the Dome at Homecoming 1998.
The seventy-eighth Homecoming, in 1999, included several innovations. The kick-off ceremony on Monday included free ice cream. Then there was Tuesday Down Under program with a trivia contest, a pool tournament, an open mike, and snacks, as well as Inflatable Fun Night activities. This year residence halls could enter the window painting contest, too. Greek organizations raised money to benefit a program for terminally and chronically ill children. The "Millennium of Memories" celebration went fairly well as far as public behavior, too, with arrests and citations generally for minor infractions. UNI defeated Cal-Poly again, 42-21.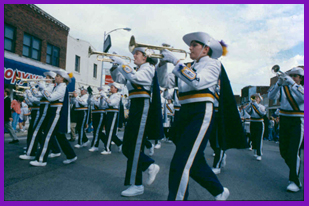 The Marching Band at Homecoming 2000.
The 2000 "Panther Pride" Homecoming celebration initiated one of the best activities of recent years: the Panther Midnight Breakfast, served in Maucker Union. But the 2000 Homecoming seemed especially good for other reasons, with activities designed to meet a wide variety of interests. The bands Nine Days and the Nadas performed on campus. The Marching Band celebrated its 100th anniversary. Football game time shifted from 1:30PM, where it had been since 1982, to 4:05PM, where it has remained since then. The Panthers defeated Illinois State, in a tough game, 34-28. There were the usual arrests and citations on the Hill, but, again, no major damage or violence.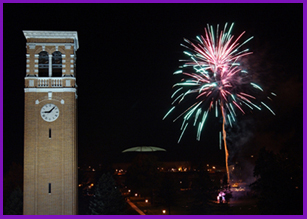 Fireworks at Homecoming 2001.
The eightieth Homecoming, in 2001, was celebrated in conjunction with UNI's 125th anniversary. Former Presidents Maucker, Kamerick, and Curris, along with President Koob, served as Grand Marshalls for the parade. Free games and movies were added to the popular Panther Midnight Breakfast. The Panther Pride Cry competition gave students a chance to show their school spirit with skits, dances, or other kinds of demonstrations. There was a dance in the Union on Thursday, and comedian Carrot Top performed at the Gallagher-Bluedorn Performing Arts Center on Saturday. Flags were featured prominently in response to the terrorist attack of September 11, 2001. And Lang Hall was rededicated after its renovation. Unfortunately, the Hill came very close to being out of control again. Women took off their tops. Crowds surged. There was heavy drinking. Police arrested seventeen and issued 150 citations, mostly for alcohol-related offenses. UNI Public Safety Director Dave Zarifis said, "We came dangerously close to having major problems this year."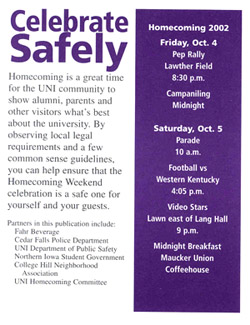 Safety pamphlet issued for Homecoming 2002.
Cedar Falls and UNI officials huddled again to try to find some sort of solution to the continuing problems of Homecoming weekends on College Hill. In preparation for the 2002 Homecoming, they produced posters, press releases, and a short video that outlined the serious consequences of misbehavior on and around the Hill. For the first time, UNI Public Safety officers were permitted to write city citations, so that there would be a unified approach to law enforcement. While there was no major damage or violence, police and public safety officers arrested twenty-six people and issued 210 citations over the 2002 Homecoming weekend. As a Northern Iowan editorial stated, "High levels of alcohol and testosterone mixed with low quantities of clothing and inhibitions have always proven to be a volatile combination." Despite continued concentration on this unfortunate aspect of Homecoming, many students enjoyed "Surfin' UNI" activities such as window painting, pep rallies, Inflatable Fun Day, a video dance party, and the new Panther Scramble, an obstacle course laid out near the Campanile.
The eighty-second Homecoming, in 2003, featured Panther Pride Cry competition, a blood drive sponsored by Sigma Alpha Epsilon, pep rallies, the parade, and other events. After the weekend, police reported that they had arrested twenty-six people, of whom five were UNI students, and had issued 267 citations, with sixty-four written to UNI students. Statistics like these characterized the problem. A relatively small number of those misbehaving on College Hill at Homecoming were UNI students. One faculty member who visited the Hill on Homecoming weekends in 2002 and 2003 called for the immediate cancellation of Homecoming. He believed that behavior provoked by excessive consumption of alcohol and widespread "flashing" was degrading and potentially very dangerous.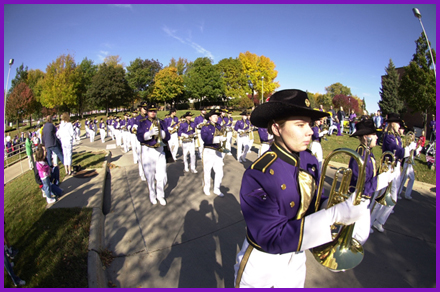 Marching Band parade route swings through campus, Homecoming 2004.
For the 2004 Homecoming, security measures were heightened further. Perhaps motivated by VEISHA disturbances in Ames, police erected additional crowd observation posts and new water-filled barricades. A fire truck was stationed on the Hill to cut response time in case of emergency. Police made twenty-six arrests and issued 251 citations on Friday and Saturday, but termed their precautionary measures a success. Scheduled activities at the eighty-third Homecoming, in 2004, included bone marrow donor registration, an interesting selection of programs at the Wellness/Recreation Center, a campus walking tour, a pep rally with fireworks, a Family Feud game, and a parade. Western Kentucky defeated UNI in the football game, 17-10.
Crowds on the Hill were smaller in 2005, though police issued 244 citations and arrested thirty-seven people, twelve of whom were UNI students. Those who were cited or arrested faced higher fines than in previous years: $200 for first offense "minor in possession of alcohol" citations and $500 for second offense citations. On the Hill, the Relay for Life group sold hamburgers and hot dogs and another group gave away pop and water. Bars charged higher than normal entrance fees to their establishments. The high fees apparently encouraged some potential patrons to seek entertainment elsewhere. Despite the high number of citations and arrests, officials characterized Homecoming 2005 as being relatively easy to handle. In the football game, UNI defeated Indiana State University, 31-10.
Certainly the most distressing part of Homecoming 2005 was the rash of fires on and off campus. The first fire was late Friday afternoon at Hillcrest apartments located west of campus. This fire began in Unit I06I and spread to several other units. There was considerable damage to the structure and contents of these units, but no one was injured. About thirty-six residents, mostly students, were at least temporarily displaced. The campus fires were discovered beginning around midnight on Saturday and into early Sunday morning. First there was a small fire in Lang Hall that was extinguished quickly. Next there was a fire in Baker Hall. Someone had gained access by breaking a window. Here again damage was limited. Finally, there was a fire in Gilchrist Hall. This fire was more serious. While major fire damage seemed to have been limited to a relatively small area of the building, smoke and soot seem to have permeated much larger areas. Gilchrist Hall was closed for what was initially thought to be a short time for clean up. As time went on, university officials claimed that damage was substantial and widespread, possibly requiring asbestos removal and reconstruction. Over a year later officials were still negotiating with the university's insurance carrier over a settlement for damages claimed to approach $11 million. All three of these campus fires were the work of arsonists. After a long investigation, four men were arrested in connection with the fires: two were charged with arson and two were charged with perjury. Those charged with arson eventually pled guilty to second degree arson and were sentenced to three consecutive ten year prison terms. They were also ordered to pay $2 million in restitution. One of those charged with perjury entered an Alford plea; he received a deferred sentence and a year of self-probation. There was another small fire at Hillside Courts shortly after Homecoming weekend.
The water barricades remained in place for a relatively quiet Homecoming celebration in 2006. There were only 104 citations and 20 arrests. Officials offered several explanations for the smaller, better behaved crowds. First, with the closing of Pour Richard's and Tony's earlier in the year, there were simply fewer bars on the Hill. And, second, students who might have come from Iowa City and Ames were busy in their own towns. The University of Iowa was celebrating its own Homecoming, and Iowa State University had a night football game against the University of Nebraska. Hill businessmen were split on their assessment of the weekend. Some liked it; others thought that the substantial police presence and the barricades inhibited the celebration and decreased their sales. In the football game, UNI defeated Missouri State University, 38-7.
Homecoming 2007 was another good celebration. After a week of the usual array of activities, the parade followed a considerably shortened route due to extended construction work on a College Street bridge over Dry Run Creek. Cool weather and occasional drizzle probably held down College Hill crowds. There were thirteen arrests and seventy-nine citations for infractions related to Homecoming activities. Most of the arrests and citations were associated with the use and possession of alcohol. Certainly the highlight of the weekend was the thrilling UNI football victory over Southern Illinois University, 30-24. Both teams entered the game undefeated and highly-ranked. The outcome of the game was undecided until the very last play. The UNI victory gave the Panthers the top spot in the next week's football rankings.
Homecoming 2008 was reasonably peaceful, at least in terms of mass arrests and violence, and the Panthers defeated Illinois State University, 31-17.  The fireworks near the Dome were impressive.  There was no parade, because of the reconstruction of College Street in the Hill area.  In place of the parade was a new event called Panther Festival.  This was a kind of parade in reverse:  floats and attractions were parked and people walked around among them.  But the issue of the Northern Iowan immediately following Homecoming took a noticeably negative tone toward Homecoming.  One article reported on the incredible amounts of trash left behind by tailgaters.  Cleaning up university areas cost at least $2000, and much more trash remained on non-university property.  The editorial in that issue lamented what it perceived to be an increase in vandalism, especially associated with Homecoming weekend.  It cited broken car windshields, wrecked bicycles, and destroyed bus stop shelters.  The editorial did blame intoxication for some of the damage, but it also noted that some of the damage seemed to be the product of thoughtless, criminal activity.  In that same issue, columnist Cassandra Boevers did not seem to know what to make of modern Homecomings.  She believed that all of the official warnings about staying safe were intimidating.  She felt as if she had been forced into a corner so confining that she did not know what she should do.  All of the warnings "painted an image of a campus full of drunken, disrespectful students."  She found the tailgating scene and the football game to be rowdy and drunken.  She concluded her essay by asking for a return to the earlier days of Homecoming:
The Homecoming game was not originated to draw out the most intoxicated people we could find.  It, along with other campus sporting events throughout the year, is designed to emphasize school spirit and view UNI in a light other than pure education.  It can be a time to interact and enjoy the student body without the dangerous stimulants.  Maybe if we ease off the inappropriate traditions, Homecoming week will not be so intimidating in the future.
Articles in the Northern Iowan just before Homecoming 2009 certainly implied that alcohol continued to be a problem.  The articles warned that extra Cedar Falls police would be on duty.  UNI Director of Public Safety David Zarifis said that there would be zero tolerance for drunk driving, open containers, and bootlegging.  College Hill road construction was complete, but there was no parade in 2009.  Instead there was again the Panther Festival on Saturday morning.  According to the Waterloo Courier, about a thousand people attended the festival, and many seemed to enjoy it.  The Panther Marching Band and the spirit squad performed.  The football game was less successful.  Southern Illinois University defeated UNI, 27-20. 
Homecoming in 2009 was marked with the theme of "I Spy UNI" where students enjoyed activities such as residence hall window painting, the Panther Pride Cry competition, Panther Scramble, Maucker Union Homecoming Murals, and a Panther Festival which replaced the usual parade. This year had a record crowd size of 17,190 at the football game. The game itself was at 4:05PM, Saturday, October 17, against Southern Illinois University, which defeated the University of Northern Iowa, 27-20.
2010 had many of the fun activities 2009 had, plus some additional ones such as the Homecoming Traditions Challenge, Dueling Pianos, and an Alumni golf outing and lunch. The theme this year was "Let the Good Times ROAR" where some highlights include a Heritage Honors alumni awards, a safe date tailgate luncheon, and Bob Dylan and his Band, Sunday, October 24. Like in 2009, this year also had a Panther Festival in place of the parade. The football game was October 23rd and University of Northern Iowa defeated Illinois State University, 42-14, making for a nice comeback from the previous year.
The University of Northern Iowa's 90th Homecoming occurred in 2011 and celebrated with the theme, "At Home in the Dome". This years football game occurred October 8, where Panthers won against Indiana State University, 23-9. There was also a Chalking Competition, volleyball, and another Panther Festival alongside the usual activities.
The 2012 theme for Homecoming was "Throwback" and was full of fun activities for the students to be apart of. Such include the Homecoming Kickoff, Picnic, Traditions Challenge Amazing Race, Laser Tag, Decade Dance, Comedian Jessi Campbell and more. The homecoming Royal Court returned this year and had their own talent competition. The game was an astounding win by UNI against South Dakota State University with 27-6 on October 20th. Seven students were arrested for public intoxication at this year's football game.
Homecoming in 2013 was a "Purple Tie Affair" in theme and was an exciting year for UNI. This year had the regular activities plus Casino Night and a magician as part of the festivities. Not only this but UNI had its first transgender homecoming royalty. The lovely Steven Sanchez was voted Homecoming Queen. This year did have a loss against Southern Illinois University however at the big game.
"Students by Day, Panthers by Night" was the theme of the 2014 Homecoming at UNI. Some events at this year's celebration include the Homecoming Kickoff, Outdoor Movie, Homecoming Picnic, Traditions Challenge Amazing Race, Bingo, Soccer, Volleyball, Pep Rally, Campaniling, Homecoming Parade, and of course, football. This year also had the parade, homecoming court, and Pride Cry Competition.  UNI had a substantial win when up against the University of Northern Colorado, winning 46-7.
2015 held many of the traditional festivities such as a pep rally, royalty, Pride Cry, and more. UNI did lose this football game against Western Illinois, 24-19. Despite this positive attitudes were maintained about UNI by columnist Hannah Carr-Murphy, who explained you do not have to be invested or even interested in the sports of UNI to appreciate homecoming as a time to show pride for your school. The theme this year was "Once Upon a Time".
"Unmask Your Spirit" was the theme of the 2016 homecoming at UNI. This year had a special focus on politics in some ways with the 2016 elections being such a big discussion. 
Unfortunately, 2017 held another loss against Western Illinois University, this time 38-29. The spirit was there in the celebrations however, with over 50 groups who participated in UNI's annual homecoming parade. The kick-off, Pride Cry, Campaniling, pep rally and other activities were enjoyed with this year's theme "Panthers Awaken" as a play on the release of the anticipated Star Wars movie, The Force Awakens.
2018 was fun for students celebrating the traditional UNI activities. Over 300 students participated in Campaniling and over 90 student organizations participated in the homecoming parade.
Homecoming in 2019 had fun with the theme, "To UNI and Beyond" and was celebrated as UNI's 100th Homecoming week. UNI won the football game against Youngstown State, 21-14. This year did rain on UNI's parade in other ways though, as weather canceled the UNI parade this year and moved the annual picnic to Maucker Union. Student Wellness Services also provided tips to celebrate homecoming safely in the case that one may choose to drink.
Summary

The University of Northern Iowa has held Homecoming celebrations for over eighty years. Some traditions fell into place early and have been stable parts of the celebration since then. The earliest essence of Homecoming--pep rallies, alumni reunions, football games, dances--remains in place today. Some elements such as the parade, campus tours, and open houses have come, gone, and come again. Some fairly longstanding traditions, such as electing a Homecoming queen, seem to be gone for good. Charitable, service, and philanthropic projects seem to have become a relatively stable part of today's celebrations. Other practices, such as the Panther Midnight Breakfast, seem to have been originated for a particular purpose. They may become established practices or they may disappear when the need for them disappears.
Would alumni from 1925 recognize Homecoming today? They would certainly recognize pep rallies and football games, though playing football indoors would seem decidedly odd. They would recognize alumni reunions, though they might be surprised at their relative segregation from student activities. They would recognize the efforts of a core group of students and university officials who work hard to make Homecoming go smoothly, but they might be surprised at the relatively small number of students who actually participate in the activities. They would recognize the parade, though they might be surprised at its long route and at some of the float themes. But they would be shocked at many things, such as the growth in the number and extent of Homecoming activities. What had once been about a day and a half of activities now stretches to a full week. And, while 1925 alumni might recognize modern College Hill disturbances as descendants of their "raids" on downtown businesses, they would be appalled at the extensive rowdiness and flagrant alcohol consumption.
What does the future hold for Homecoming celebrations at UNI? There seems little doubt that the celebrations will continue into the foreseeable future, because so many people and groups wish them to continue. Many students enjoy at least portions of the wide variety of activities. Student organizations enjoy working on floats. Sports fans enjoy the football game. Service and philanthropic efforts generate both good will and worthwhile donations to charity. The Alumni Association and the Development staff value the opportunity to get alumni to campus. Local business owners welcome the marked increase in sales on Homecoming weekend. Were it not for the continuing, unfortunate occurrences on College Hill, even that "little doubt" about the future of Homecoming would disappear. The city of Cedar Falls has taken wise precautions to deal with the large, unruly crowds on College Hill. University officials, especially those associated with Maucker Union, have developed interesting and attractive alternatives to draw students away from the Hill. Even UNI students who do go to the Hill seem to be able to control themselves to the extent that they are in the distinct minority of those who are arrested or cited. Controlling the behavior of people who come to the Hill from outside the university community is likely beyond the purview of university officials and may well be solely a police matter.
As long as local and university officials work together to deter disorderly conduct and to provide attractive alternative ways to celebrate, Homecoming at the University of Northern Iowa will almost certainly continue for a very long time.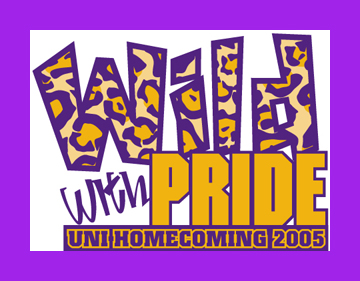 Emblem for Homecoming 2005.
Compiler:
Essay by Gerald L. Peterson, University Archivist, with research by Shanna Taylor and other student assistants; photo selection and scanning by Library Assistant Gail Briddle, Special Collections and University Archives, September 2005; updated April 2020