Have you ever wondered what Lang Hall looked like before it started deteriorating? Is there really a ghost named Augie living in Lawther Hall? Have students always paid tuition to study at UNI?
If you have a question about the history of UNI, you have come to the right place! The Rod Library Special Collections and University Archives contains a wealth of historical materials that record UNI's past. This display highlights the major sources found in Special Collections which patrons can use to answer many general questions about UNI history.
This web display contains the entire text of the actual display. However, because of the size and format of some of the display materials, their images could not be included.
---
World Wide Web
Some UNI historical information is now available online from the University Archives homepage.  From the web page, individuals have access to building histories, illustrated essays on UNI topics, biographical sketches of UNI people, guides to collections, and Special Collections displays. We are continually adding information to this page, so check it often! You can access this page through the Rod Library homepage or go directly to through the link above.
---
UNI News Releases
News releases are a good source of information about UNI. Since 1929 the Office of Public Relations has issued daily news releases on newsworthy items relating to UNI. These are on topics such as building dedications, conferences, scholarship awardees, and faculty accomplishments. Copies of all the news releases can be found in the Special Collections. A name index to this collection has been created to assist patrons in locating news releases in their area of interest.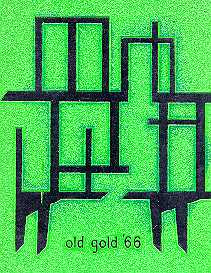 ---
Yearbooks
The Old Gold yearbook is another source of UNI history. Each annual contains photographs and articles describing the year's events. They also include photos of classes, athletic teams, and faculty members. Special Collections has yearbooks from their first publication in 1905 through 1969, and from 1979 through the present. In addition to the indexes within each yearbook, a comprehensive subject and personal name index has been created for volumes 1905 through 1959.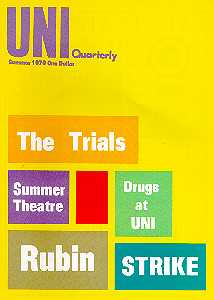 The Old Gold was not published for nine years during the 1970s. However, from 1969 through 1972 the UNI Quarterly was issued in its place. This magazine contains some of the same information found in the yearbooks, including photographs and stories on events of the year. These issues are also indexed by subject and personal name.
---
Alumni Magazines and Directories
The Office of Alumni Relations publishes a magazine for alumni of the University. These magazines are a good source of information about alumni, reunions, and current campus events. Many contain excellent photos of UNI people and places. In 1915, UNI mailed out its first Alumni Newsletter. Today it is known as the Northern Iowa Today. The alumni magazines from 1930 through 1987 have been indexed by subject and personal name.
 The Alumni Directory is a source that lists all UNI graduates. All three editions, 1986, 1991, and 1996, contain a name index along with a chronological list of graduates. For most graduates, their degree, graduation year, current address, and occupation are listed. The 1996 edition also has geographical and career indexes.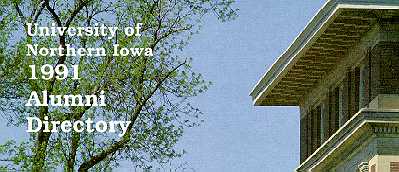 ---
Student Newspapers
Reading campus newspapers is a great way to learn about UNI history. They report campus events and discuss issues affecting students. UNI has published a campus newspaper since 1877, except for the years between 1884 and 1892. The staff in the Special Collections has maintained an index to these newspapers. Patrons can search for subjects such as Title IX, parietal rule, and crime, and by some personal names.
Student Newspapers
1878 - 1884 Students Offering
1892 - 1911 Normal Eyte
1911 - 1967 College Eye
1967 - Northern Iowan
---
Books
Several books have also been written about UNI. In 1990, Dr. William Lang, former Professor of History and Vice President of Academic Affairs, published volume I of A Century of Leadership and Service: A Centennial History of the University of Northern Iowa. Five years later Lang and Dr. Daryl Pendergraft published volume II. These volumes present a comprehensive history of this school from its beginning through 1976. They are the most frequently consulted books of UNI history.
Copies of these volumes, commonly known as the Lang books, are located in Special Collections, the Reference Collection, and the regular circulating collection with the call number LD 2587 .L36.
Two other books were written about UNI history previous to the Lang books. In 1926 Professor David Sands Wright published a history of UNI from 1876-1926, titled Fifty Years at the Teachers College. Then in 1951 Irving H. Hart, Extension Service Director and Archivist, published The First 75 Years. This book focused on 1876-1951.
Both books can be found in the Special Collections, the Reference Collection, and the circulating collection with the following call numbers:
Fifty Years at the Teachers College - LD2587 .W7
The First 75 Years - LD2587 .H3

---
University Catalogs
University catalogs are an additional source of UNI history. They are an excellent source for learning about college life in the early years. Among the topics in these sources are curriculum, living conditions, tuition and fees, extra-curricular activities, faculty members, and admission requirements.
In addition, the early issues also contain a list of the students enrolled, their area of study, and their hometown. Many of the early catalogs also contain a list of alumni since 1878 and their present occupation, along with maps and photos of campus.
University of Northern Iowa Catalogs
1877-1897 Iowa State Normal School Catalogue
1897-1900 Catalog and Circular of the State Normal School
1900-1909 State Normal School Bulletin
1909-1961 The Bulletin of the Iowa State Teachers College
1961-1967 State College of Iowa Bulletin
1967- University of Northern Iowa Bulletin
---
Information File
The Information File provides quick access to some of the more popular subjects of UNI history. The cabinet, which is located in the Special Collections reading room, contains folders of information on selected topics, such as the Campanile and Homecoming. These folders contain photocopies of articles from local newspapers and magazines, and other artifacts. A list of the subjects included in the file is located near the cabinet.
---
University Reports
The University issues reports on many different topics. Two important reports are shown here. First, the UNI Budget books contain details about the University's budget. Included are departmental budgets and salaries for faculty, staff, and administrators. The Special Collections has budget books dated from 1928 through the present.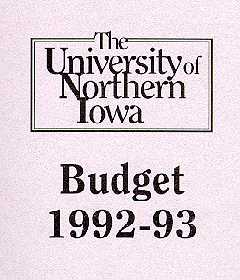 The second useful report is called A Profile of Students Enrolled at the University of Northern Iowa. Since 1979, these reports have described many aspects of the student population, including (but not limited to): gender, resident status, race and nationality, age, and major. There are also sections dealing with freshmen and transfer students.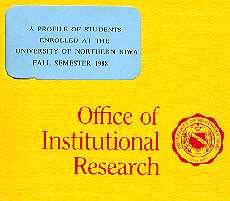 ---
Photographs
Another great source of information about UNI is the Special Collections photograph collection. The collection consists of thousands of photographs taken of every aspect of UNI, including students, faculty, organizations, athletics, and buildings. From these patrons can discover how campus looked in 1876, what our first president looked like, how students dressed in 1940 to go to class. The photo below is of an early May Day queen and her court.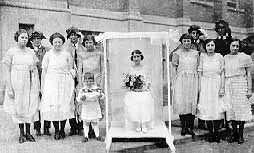 ---
UNI Fact Sheet
The "UNI Fact Sheet" is a free guide that "provides quick, factual information about UNI." The guide contains information such as enrollment, tuition and fees, presidents, and dates of building construction. They are available inside Special Collections and near the Reference Desk. A web version of this guide is also available from the Special Collections homepage.