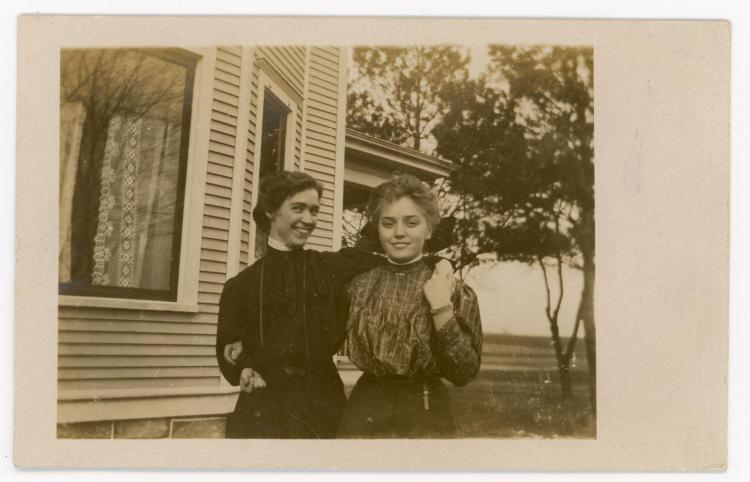 ---
Biographical Information
Sybil Amanda Lincoln was born in Adams County, Iowa, on January 7, 1883.  She was a daughter of George Ira Lincoln and Loretta (or Laretta) Mitchell Scott.  Both George Lincoln and Loretta Scott were born in March 1858; George Lincoln was born in Iowa, and Loretta Scott was born in Ohio.  They were married in 1878.  They had at least five children in addition to Sybil, though one child died young.
Probably after completing high school in Corning, Iowa, Sybil Lincoln began teaching school.  She likely continued to teach until she enrolled at the Iowa State Normal School, now the University of Northern Iowa, in the fall of 1904.  When she enrolled, she had nine terms of teaching to her credit.  That was not an unusual pattern of work and study in those days.  Collegiate experience could increase a teacher's salary or enable him or her to find a position at a larger school.  But college study was not required for teacher certification.  After teaching for a few years, Miss Lincoln apparently thought that she needed collegiate study in order to advance her career. 
At the Normal School, Miss Lincoln was elected to a committee chair in the Young Women's Christian Association in the spring of 1905.  Her committee furnished and decorated a room where women could rest and relax between classes.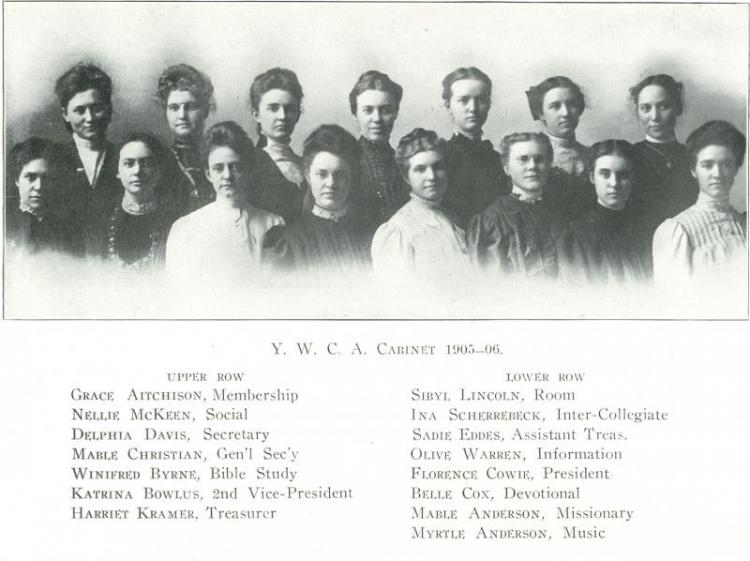 In the fall of 1905 she served as corresponding secretary of the Zetalethean Literary Society.  In December of that year she won second prize in a Zeta oratory contest.  Miss Lincoln was apparently a good student, who found favor with the faculty.  In May 1906, after receiving her Bachelor of Didactics diploma, she was elected to the position of room teacher in the grammar grades in the Training School.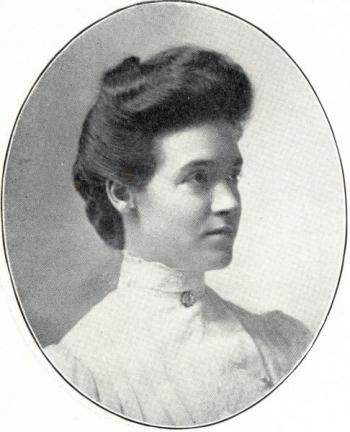 The Training School was a campus model school that, in several phases, eventually developed into the Price Laboratory School.  Local children attended the school, and Teachers College students did their student teaching, or field experience, there.  Election to this position was a distinct honor and tribute to Miss Lincoln and her abilities.  With this appointment, President Seerley, the school's governing board, and the faculty asserted that Miss Lincoln had the ability to serve as the regular teacher for a room in a school whose purpose was to demonstrate model teaching practices.  What is more, she could continue to pursue her studies at the college while she taught in the Training School.
During the next several years as a room teacher in the Training School, Miss Lincoln continued her work in the YWCA and the Zetalethean Literary Society.  She was promoted to the position of Critic Teacher in Training for the 1909-1910 school year.  In this position, Miss Lincoln likely continued her regular classroom duties, but she also began training to become a supervisor of student teachers.  She would learn to evaluate and coach students who were preparing to be teachers.  Again, the college administration recognized both teaching ability and leadership ability in Miss Lincoln.  Her classmates also recognized her strengths when, in the fall of 1909, they elected her secretary of the Class of 1910.  Over the 1909 Christmas holiday, she attended the YWCA convention in Rochester, New York, and brought back a report on the meeting to the campus chapter. 
Miss Lincoln received her Master of Didactics degree in 1910.  She was then re-elected to the Critic Teacher in Training position for the 1910-1911 year.  However, there were other things going on in her life just then.  It seems likely that she and Dr. Warren Leroy Gardner (sometimes Gardiner), of Corning, Iowa, had been courting for several years.  A wedding was in clear sight.  In May 1910, Ida Fesenbeck, a Critic Teacher and colleague in the Training School, gave a linen and silver shower for Miss Lincoln.  Friends were happy for Miss Lincoln, but they were sorry to lose a talented member of the Training School faculty.  In June, Miss Lincoln's mother came to Cedar Falls, likely to help her pack her things for the trip home and for the wedding.  The student newspaper for September 14, 1910, reported that Sybil Lincoln married Dr. Gardner on July 20, 1910.  The couple was at home to friends in Corning, Iowa. 
Dr. and Mrs. Gardner had at least four children:  Arthur, Gertrude, Lucille, and Dean.  At least one of the Gardner children, Gertrude, graduated from the Teachers College.  In 1984, Gertrude Gardner McKee sent her mother's collection of postcards and photos to the University of Northern Iowa Alumni Office.  In the letter that accompanied the collection, Mrs. McKee said:
My mother saved everything!  She spent 6 years in ISNS, was exceedingly proud of it,
made many close and lasting friends . . . she was particularly fond of Mr. (Wilbur) Bender
and had great respect for Mr. Seerley . . . My mother attended her 50th reunion in 1960,
again with much pride. 
Sybil Amanda Lincoln Gardner died in August 1972.
---
The Collection 
Sybil Lincoln attended the Iowa State Normal School, now the University of Northern Iowa, and then taught in the campus Training School from 1904 through 1910.  During that time, she exchanged postcards and photographs with friends.  She and her friends seemed to show a special interest in the Cedar River as it passed through Cedar Falls.  This collection of postcards and photographs found their way to the University of Northern Iowa Archives in September 2014.  Some of the postcards are commercial products.  Some seem to have been made specifically for Miss Lincoln, who had a camera of her own.  Some of the postcards were sent through the mail and contain short messages and greetings.  But many were simply purchased and then kept as souvenirs of Miss Lincoln's study and work in Cedar Falls.
This small collection of postcards and photos offers an quick look at campus life and an especially nice look at scenes from about 1910 along the Cedar River as it passed through Cedar Falls.  Presented below is a substantial portion of those postcards and photographs, with occasional commentary.  The collection presented below is not a chronological narrative.  The collection is too small and notes on the cards are too brief to support that.  Consequently, the collection is arranged into two broad areas:  (1) campus scenes and activities and (2) Cedar River scenes. 
---
Teachers College Campus Activities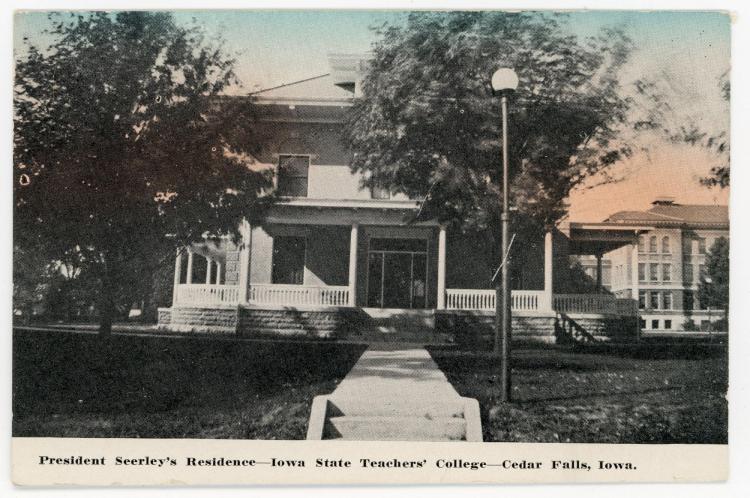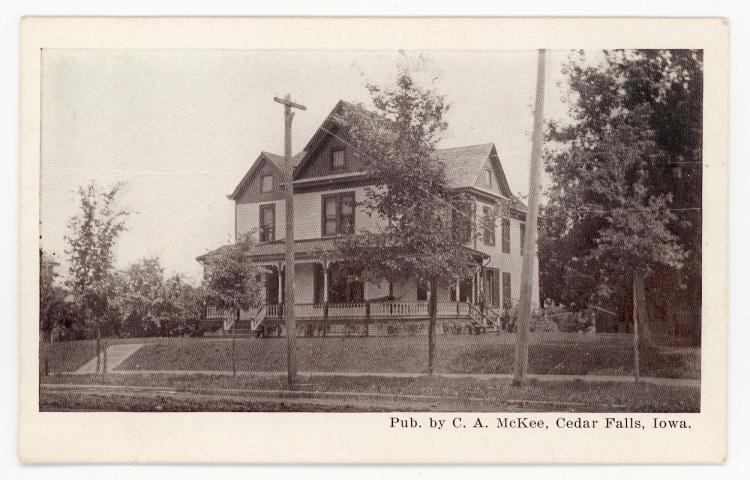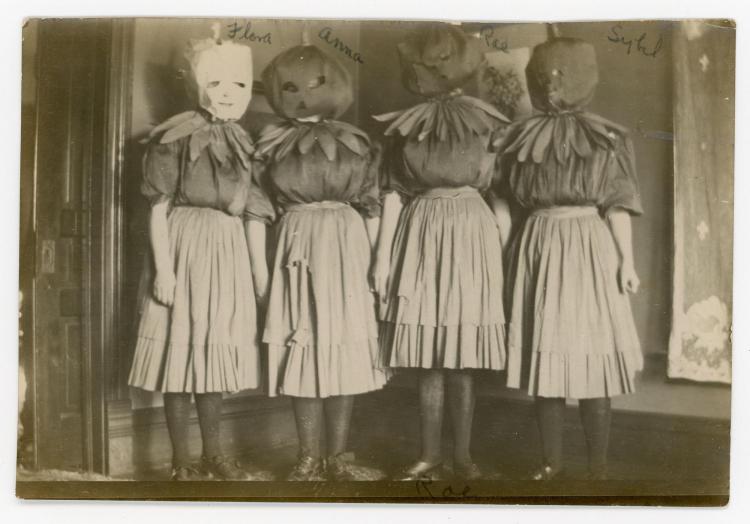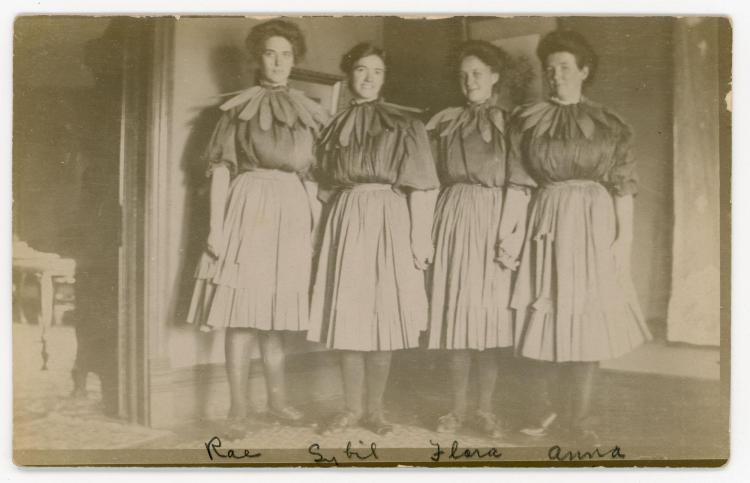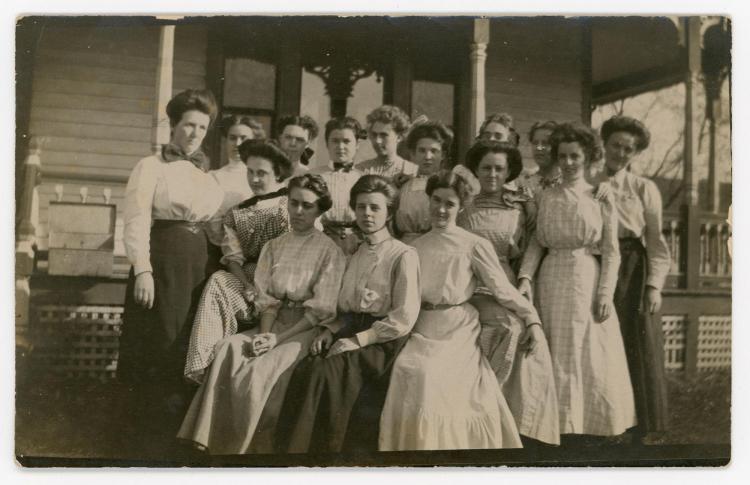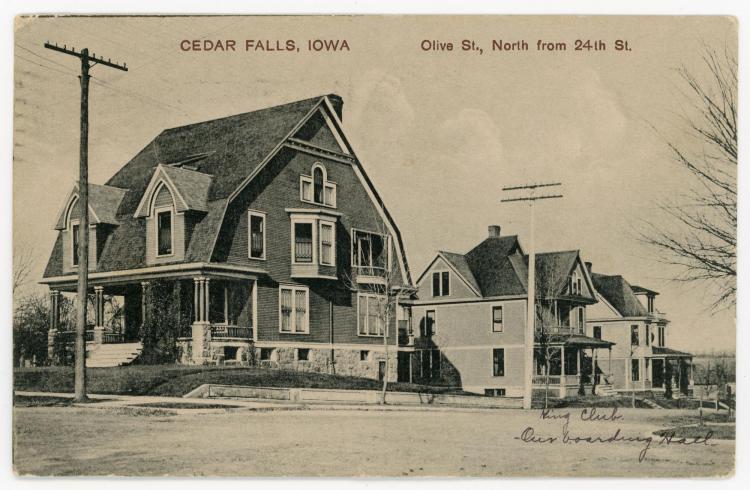 On the back of this February 1910 postcard, addressed to Miss E. Fern Lincoln, of Brooks, Iowa, Sybil Lincoln wrote:
Tues. P. M.
I am still unable
to go to school.  The swell-
ing has gone down
but not entirely and
I feel pretty weak
yet.  Don't know when
I'll get to school, this
week I hope, tho.
The snow is melting a great
deal outside but there is
still sleighing.  Hope you
are well.  Love--Sybil.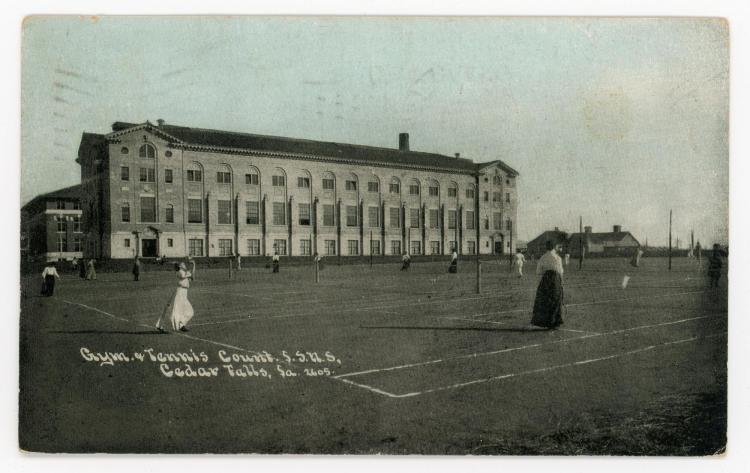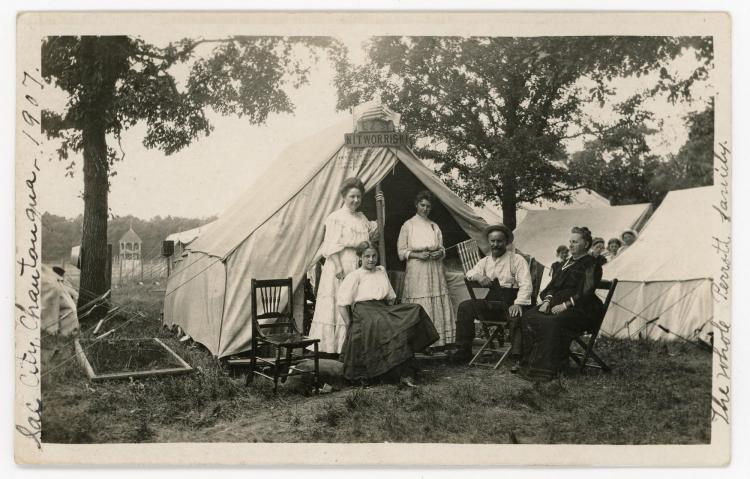 Jessie, whose last name might have been Perrott, sent this card to Sybil Lincoln when Miss Lincoln was home for the summer in Corning in August 1907.  Jessie is likely the younger woman seated in front of the tent.  In addition to the brief notes on the front of the card, seen above, Jessie wrote the following message on the back of the card:
Dear Sybil.
I suppose you know some of this group.  I was trying to sit on the table.  We had
such a nice time, wish you could have been with us.  Hope I'll see you in Des Moines.
Sincerely
Jessie
Chautauquas were a very popular form of entertainment in the United States in the latter part of the nineteenth century and the early part of the twentieth century.  Whole families would head to a Chautauqua site, where they would camp for a few days.  There they would both learn and be entertained.  The assemblies featured dynamic speakers, talented musicians, and nondenominational preachers.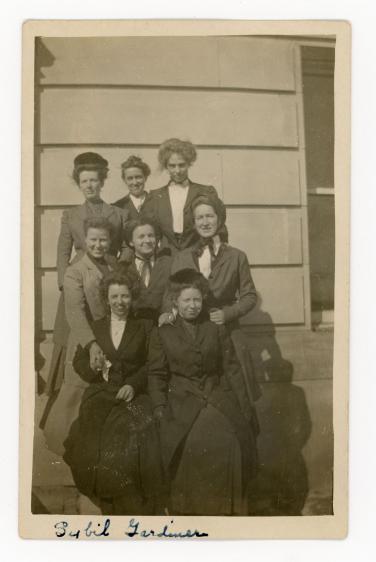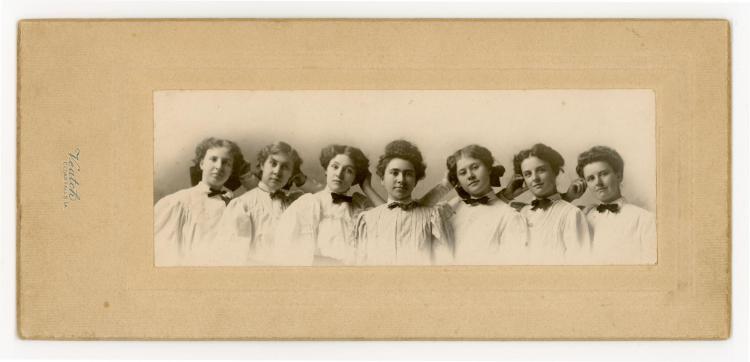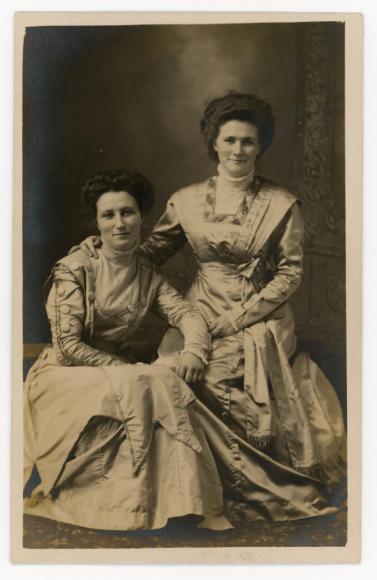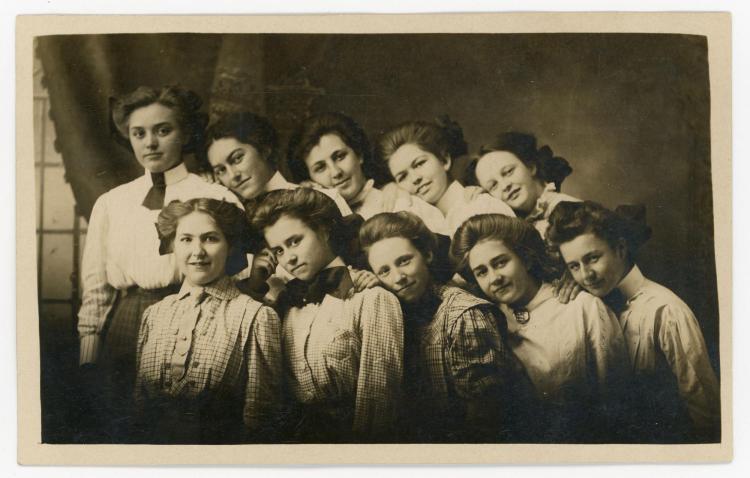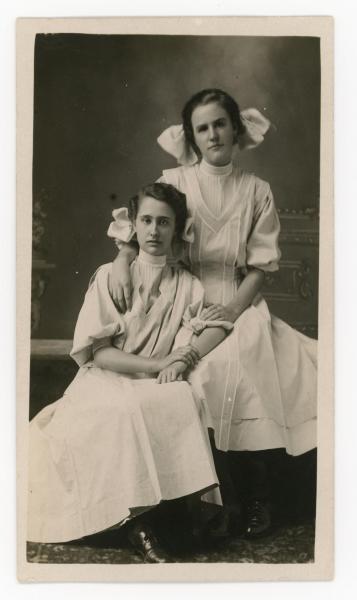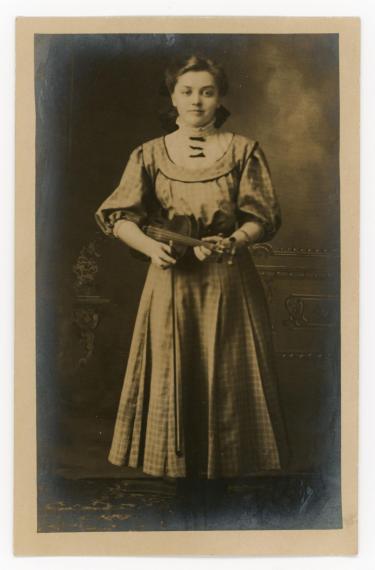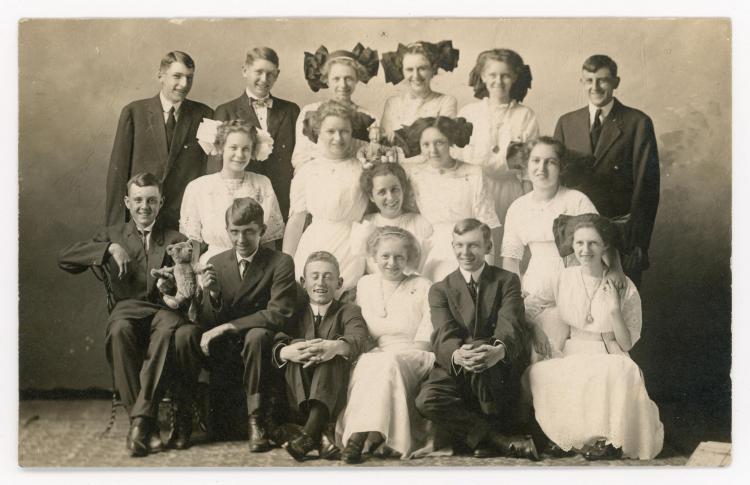 This unusually informal photo is from the Training School high school class, perhaps the senior class of 1911.  The card was sent to Sybil Lincoln in July 1911, after her marriage to Dr. Gardner.  The brief message on the back reads:
Dear Mrs. Gardner
I thot perhaps you would like our picture.
Miriam Bender
Miriam Bender was a daughter of Wilbur H. Bender, head of the Training School, and a student of Sybil Lincoln.  She was also a friend of Hazel Butterfield, who appears in the photo above this photo.  The class photo is a tribute to the students' affection for their teacher.  The lack of formality in the picture might also hint that Miss Lincoln had a sense of humor that her students appreciated.  The use of the word "thot" may not be a careless misspelling.  At the time when the letter was written, the college, and likely the Training School, was intentionally trying to adopt "Simplified Spelling".  This was a national movement, strongly supported by President Seerley, that attempted to modify some of the difficult and inconsistent spelling irregularities of the English language.  "Thot" was likely an intentional effort to simplify the word "thought".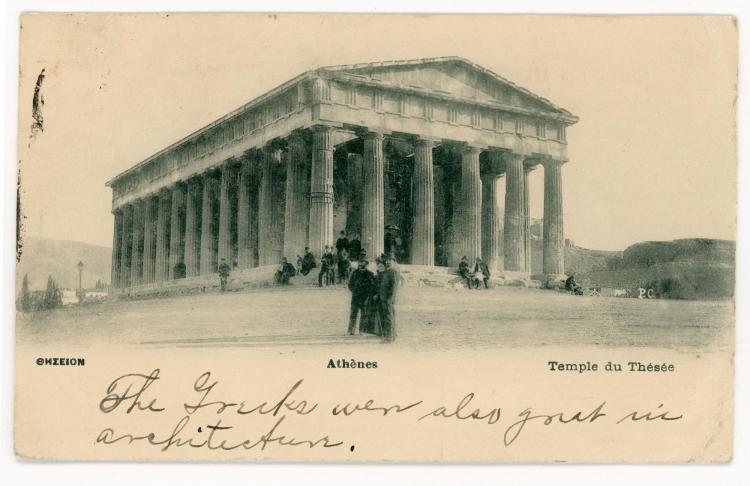 In the summer of 1908, Professor Bender made a tour of Europe.  He sent this postcard from Athens, dated August 20, 1908, to Sybil Lincoln.  In addition to the brief note on the front of the card, seen above, he wrote the following greeting on the reverse:
Athens, Greece, Aug. 20, '08.
My dear Miss Lincoln:
Of course you have been resting this summer but you have not had the variety of
weather we have had.  From glaciers to the hottest of summer in Greece we have had
in a few weeks.  It has been a good summer full of work and interest.  By the time this
gets to Cedar Falls you will be there.  I hope things start well.
Very truly,
W. H. Bender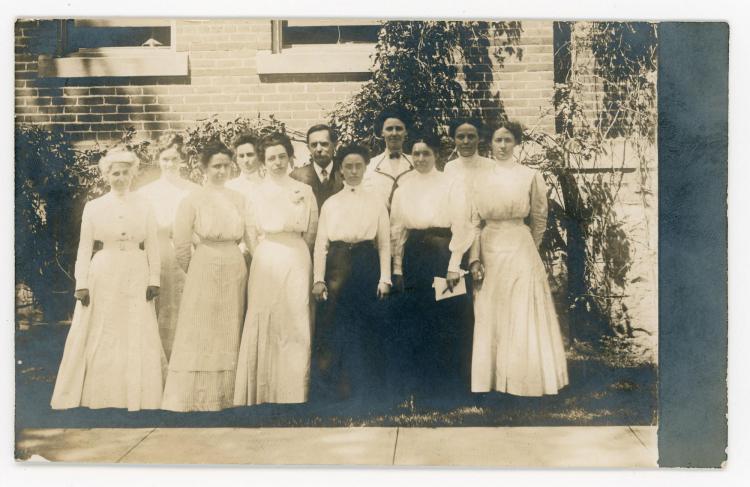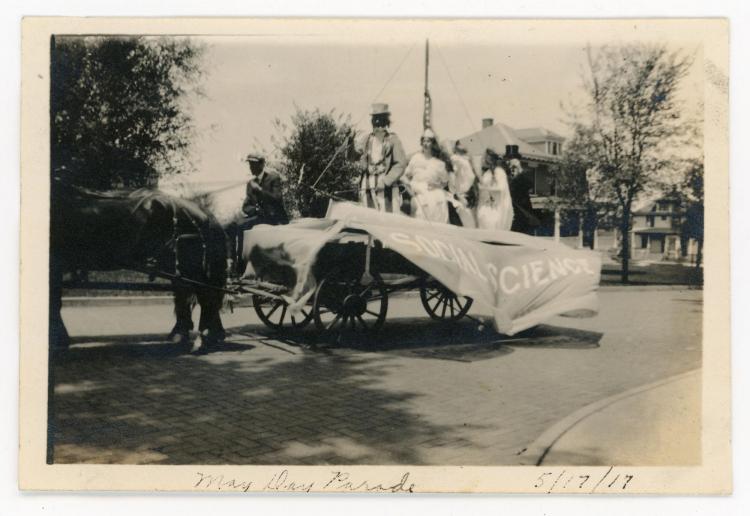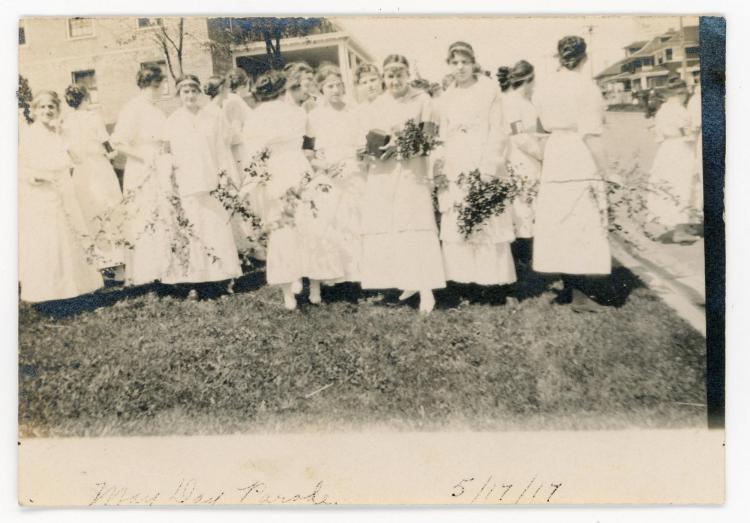 The presence of these two photos of a May Day parade in 1917 is a bit hard to figure out.  The photos seem to have been taken in Cedar Falls.  The "Social Science" banner on the float certainly indicates some sort of association with a college.  But Miss Lincoln had been married and away from the Teachers College campus for seven years.  Perhaps she came back to campus for a visit or reunion.  Or maybe a friend sent the pictures to her.  No matter their origin, the photos present a nice look at a parade with a patriotic theme appropriate to a country that had just entered World War I.
---
The Cedar River
The Cedar River, as it passes from the northwest to the southeast through Cedar Falls, has long been a favorite recreational site for many local citizens as well as faculty, staff, and students of what is now the University of Northern Iowa.  The higher south bank, that included a cemetery and railroad right of way, was a good place for long walks.  The much lower north bank was the site of many cottages, including some owned by school faculty members.  Those cottages--part of what has long been known as Cottage Row--were good places for house parties, picnics, swimming, and boating.  Even though the north bank was prone to frequent flooding, the Cottage Row area served as a kind of local resort for some Cedar Falls residents.
If the presence of postcards in her collection is an indication, Sybil Lincoln and her friends must have enjoyed frequent walks and other recreational activities along the river.
The two views above look back and forth across the Cedar River from what are now Greenwood Cemetery and Island Park in Cedar Falls.  Mae Bates, a friend of Miss Lincoln, wrote a brief message on this postcard in the summer of 1908.  She wrote:
I'll send your raffia this morning with this.  Do you want the little room again next year? 
Please let us know.  Am sorry I didn't get this off sooner.  Will clean house next week.
Your friend, Mae Bates
Miss Bates and Miss Lincoln apparently lived in the same rooming house and were making plans for the next year's accommodations.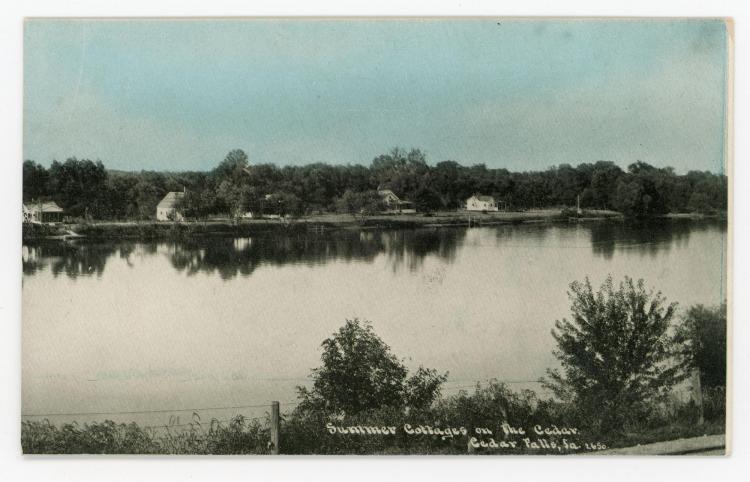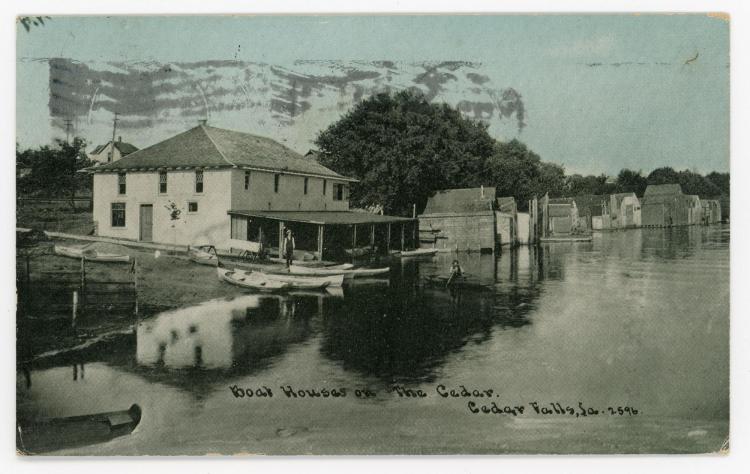 Helen Taylor, a friend of Sybil Lincoln, sent this postcard on September 19, 1910.  However, this card was addressed to Miss Lincoln in Corning, Iowa, under her new married name, after her marriage to Dr. Warren L. Gardner.  Miss Taylor wrote:
2314 Walnut, still.
Dear Sybil:
How are you getting along?  Sake and I have spoken of you so often, and we do miss
you so much.  I don't know how I would get along without Sake.  Have you heard from the
other girls lately.  I haven't, only from Laura.  I see Agnes every mealtime. 
Helen H. Taylor
Miss Lincoln's old roommates were still at the same rooming house on Walnut Street, but they missed their old friend.
City Springs was located in what is now known as Pfeiffer Springs Park, north of Grand Boulevard, in Cedar Falls.  The City Springs were a source of water for the town of Cedar Falls.  Sybil Lincoln's friends sent this postcard, postmarked June 23, 1908, to Miss Lincoln when she was home in Brooks, Iowa, for the summer.  The friends were living in the same rooming house and occupying the room where Miss Lincoln lived during the regular school year.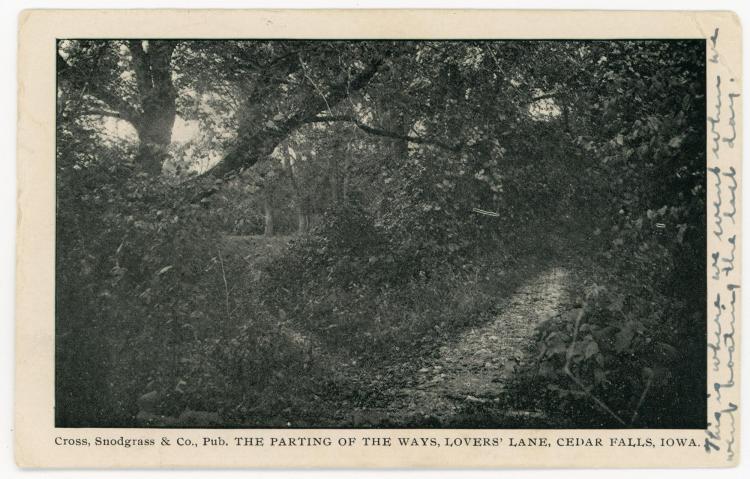 Martha, a friend of Sybil Lincoln, sent this card to Miss Lincoln in Brooks, Iowa, on June 20, 1908.  On the message side of the card, Martha wrote:
Hello Sybil:-Why don't I hear from you.  I got home Mon. noon.  Was out to Mattie's until
Sat. Morning when C. brought me in to C. F.  Started from there Sat. P. M. and went to
Tipton.  Just had a lovely time at Matties.  Clara & I had a boat-ride before we left but it
was not quite as good as the one I had before.  How is the Dr.?  Tell me all about him
when you write.  Little Kathyrine is as cute as can be.  Wish you could see her. 
Love from, Martha.
On the front of the card, Martha wrote:
This is where we went when we went boating the last day.
It is not clear what Martha's last name was, but she apparently knew Miss Lincoln well enough to ask about the "Dr."  The "Dr." was likely Dr. Gardner, whom Miss Lincoln eventually married.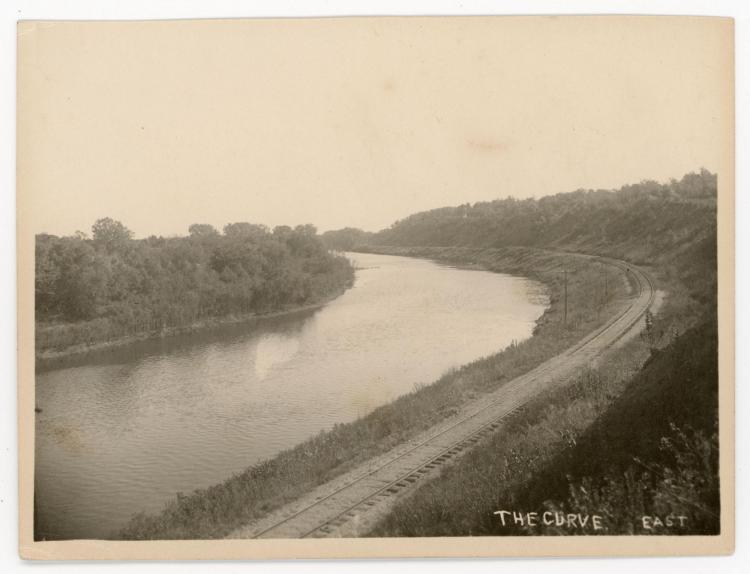 This is not a postcard.  Rather, it is a photograph likely purchased from the well-known Cedar Falls photographer, William Veatch.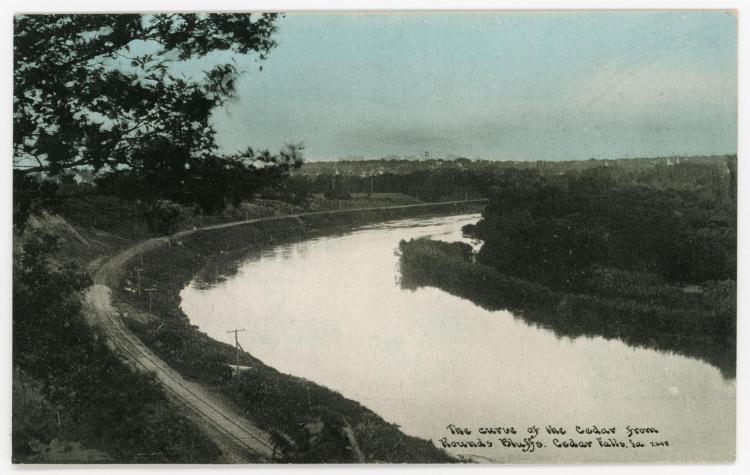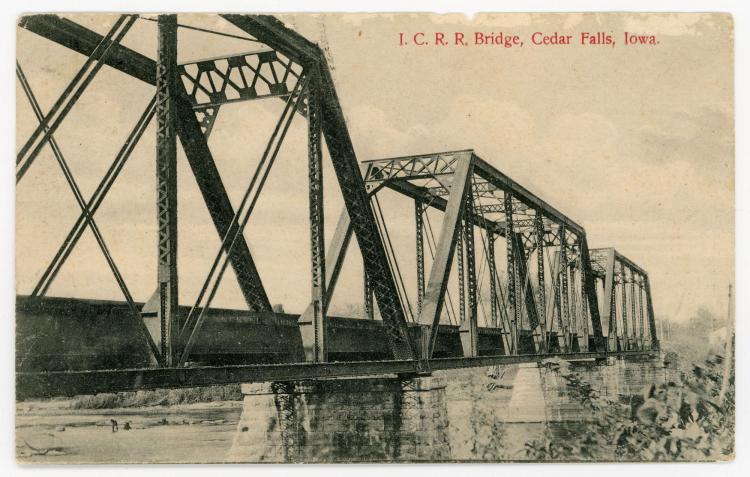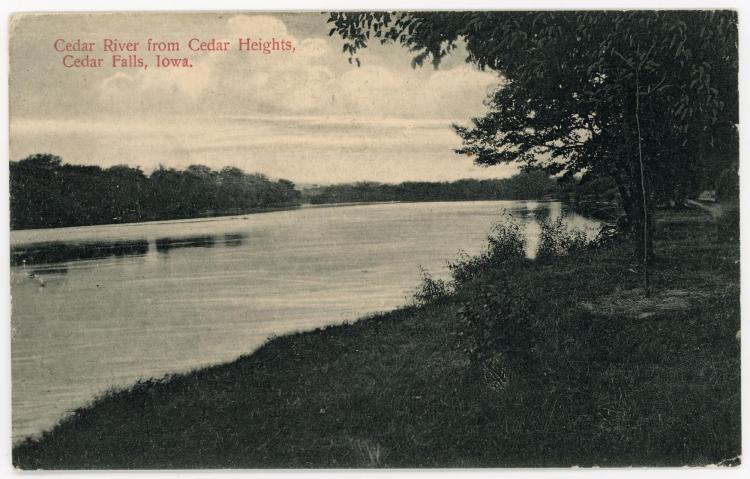 Minnie, a friend of Sybil Lincoln, sent this postcard to Miss Lincoln, in Corning, Iowa, on June 14, 1909.  Minnie wrote:
We are back in school again and you girls are certainly missed from our number.  The
rooms are full but they are all strangers except Ella Bentley.  I found a little pan on my
commode with numerous things on it.  Thank you for them.  Come down & see us
sometime.  I got my graduating dress also my pink one made & my new shoes ready for
graduating.  I wish I might have had them sooner but I got along well enough.  I got a
card from Lillian today & one from Georgia.
Love from Minnie.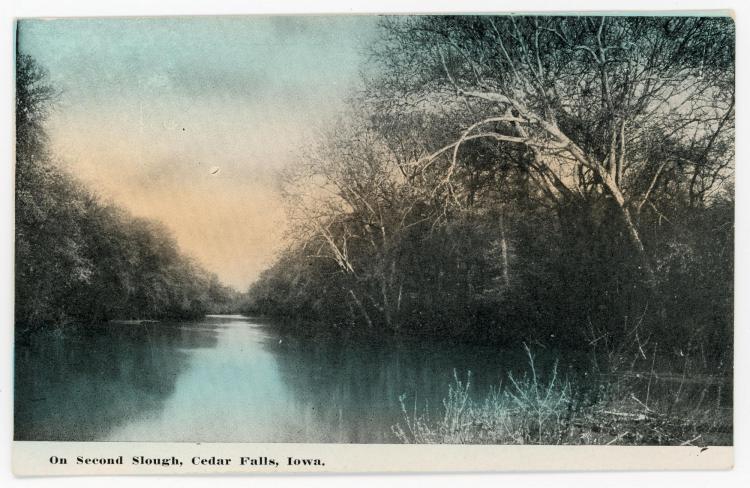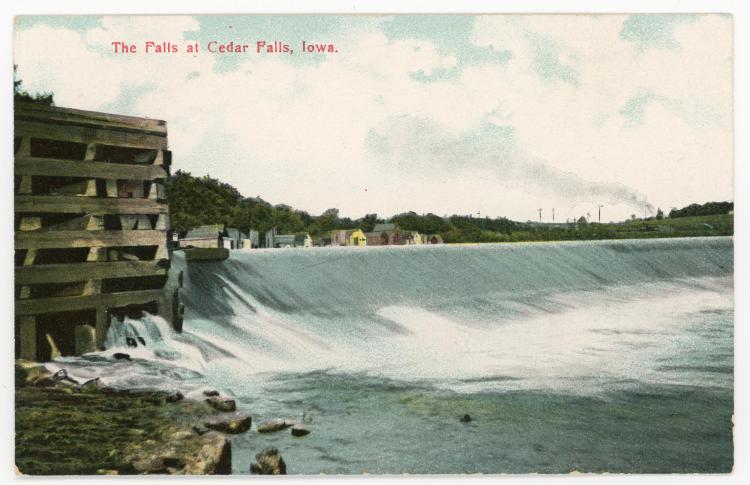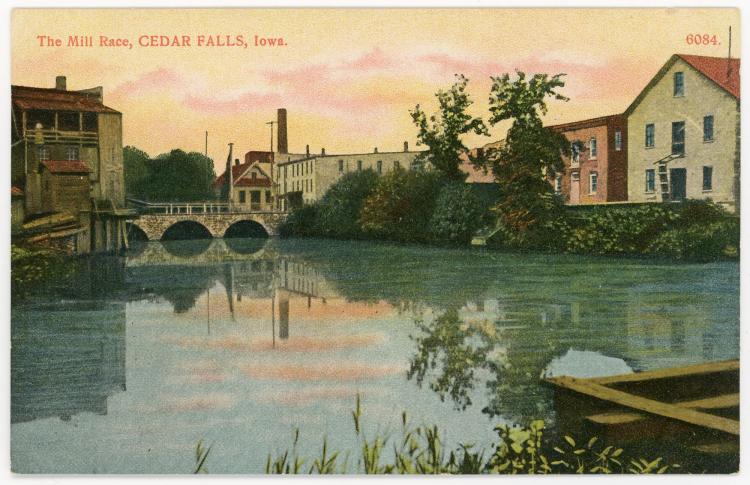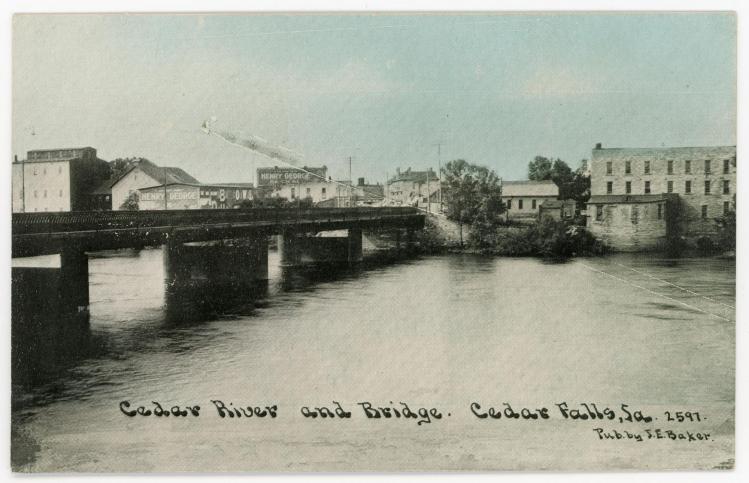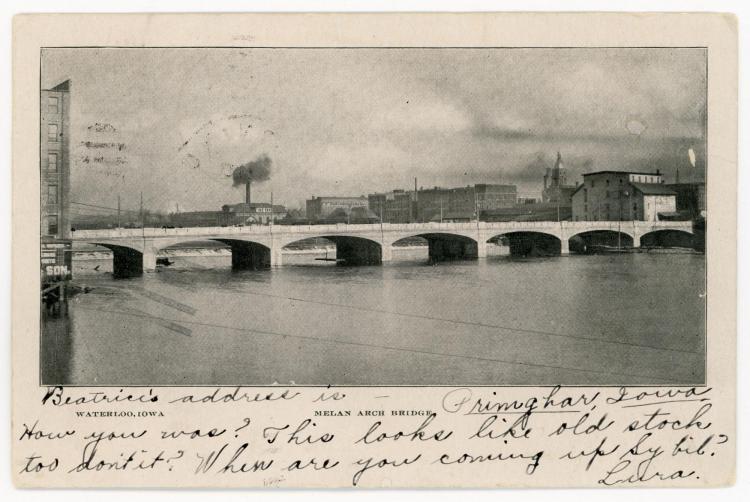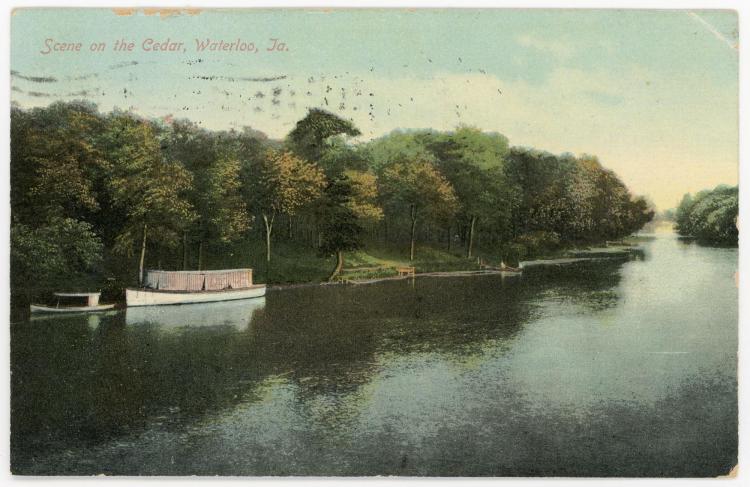 Sybil Lincoln's friend Hazel Butterfield send this postcard to Miss Lincoln in July 1909.  Miss Butterfield wrote the following message on the reverse of the card:
My dear friend--
Well, what is the matter?
I'll try this address now and so if it brings an answer.  Do not forget you have a friend
here near Cedar Falls yet.  If I get a reply to this, I will write you a letter and tell you all
about our trip.
With love, Hazel B.
---
Summary
This is not an especially unusual collection.  Many students of that era collected souvenirs of their college life.  Sometimes they put their souvenirs into scrapbooks typically organized in rough chronological order.  Perhaps Sybil Lincoln did that with other material, but she did not do that with this collection of postcards and photographs.  Perhaps she enjoyed looking through them from time to time.  Perhaps she enjoyed showing them to her children as they grew up. 
Even though the material that came to the University Archives recently is likely just a fragment of what Miss Lincoln brought home from Cedar Falls over a hundred years ago, certain aspects of her life and personality emerge.  She is often seen smiling in her photographs.  She had many friends and enjoyed her life with them in their Walnut Street rooming house.  And they must have enjoyed many recreational activities along the Cedar River.  Also, she and her Training School students seemed to have a strong affection for each other.  The unusually happy and informal class photo of the Training School Class of 1911 is evidence of that.  And third, she was a talented teacher, whom the college administration valued.  She would likely have received further promotions had she not married.
Small collections such as this tend to leave unanswered questions.  As in many collections, we have, for the most part, only one side of the correspondence, the notes that Miss Lincoln received.  That situation can be tantalizing:  what, for example, was the "matter" to which Hazel Butterfield referred in the 1909 note immediately above?  Since Miss Lincoln had access to a camera when she was in Cedar Falls, did she take more pictures that are not in this collection?  Are those pictures available somewhere?  Did the friends stay in contact with each other after college?  Did they occasionally meet at reunions and reminisce about the old days?  Was it difficult for Miss Lincoln to leave a promising teaching career in order to marry?   Was she happy with her choice afterward? 
Questions such as these invite speculation about Sybil Lincoln.  However, the purpose of this essay is centered more on providing a glimpse of the Cedar Falls collegiate environment from around 1910.  The collection, in and of itself, does not support deeper conclusions.  The writer of this essay must leave the unanswered questions for other times and other writers.
---
Text and commentary by University Archivist Gerald L. Peterson, with scanning by Library Assistant Joy Lynn, September 2014; last updated, February 5, 2015 (GP).