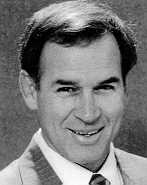 Don Briggs became Head Coach of the UNI wrestling team in 1982 after the previous coach, Chuck Patten retired.  At the end of his fifteen years in this position, Briggs had coached twenty-nine All-Americans, among them four two-time and three three-time All-Americans.  He had a winning record of 164-98 and his teams had placed in the top twenty at the NCAA meet twelve years.  The Panthers had also performed well at the West Regional Championships, placing first from 1986 through 1997, and second in 1983, 1984, and 1985.
Team Placing at National Championships
10th Place (2) 1983, 1992
11th Place (4) 1984, 1990, 1991, 1994
13th Place (2) 1987, 1988
14th Place (1) 1989
16th Place (1) 1995
17th Place (1) 1986
18th Place (1) 1985
22nd Place (1) 1993
27th Place (1) 1996 (tie)
41st Place (1) 1997 (tie)
Outstanding wrestlers during this period include three-time All-Americans Gary Steffensmeier at 150 pounds, Rich Powers at 177 pounds, and Justin Greenlee at heavyweight.  Steffensmeier placed second in 1990 and fourth in 1991 and 1992 at the NCAA Championships.  Powers placed fifth in 1990 and 1992, and fourth in 1991.  Greenlee placed eighth in 1993 and second in 1994 and 1995.



Rich Powers and Justin Greenlee.
Although UNI had no national champions during Briggs's time, several wrestlers did place second.  In addition to Gary Steffensmeier and Justin Greenlee who were mentioned earlier, Joel Greenlee (hwt) and Bob Hallman (118) took home second place medals in 1989 and 1984, respectively.
Briggs's fifteen seasons at UNI,  covering 1983-97 has been outlined in an additional resource. 
---
Compiled by Library Assistant Susan A. Basye, January 1998; last updated, January 22, 2014 (GP). Updated by Student Assistant Lily Schwarz, April 30, 2020.