I was fortunate enough to know my great-grandmother, or as I called her, Grandma Great. Growing up she told me numerous stories about family members both alive and dead. Knowing my family's history provided some sort of comfort and a sense of identity. Grandma Great passed away with so many stories untold and questions unanswered. This led me to develop an interest in genealogy. I have learned a lot about my family but it was usually just birth dates, where they lived, and when they died. That doesn't tell someone's story - I can read all that information on a tombstone. I wished Grandma Great had written everything down about the people she knew so I could read it. While working over the summer, I found that SC&UA had just what I wished for. 
When putting away new accessions for our rare books collection, a wall of county histories caught my eye. I scoured the shelves for my home county of Henry. The book I found had seen better days so I rested it on a foam pad and began to read. In the preface of the book it stated its purpose, "Instead of going to musty records, and taking therefrom dry statistical matter that can be appreciated by but few, our corps of writers have gone to the people, the men and women who have…brought the county to a rank second to none." I didn't know if my family fit the description of "Prominent and Representative…of the County," that is on the cover, but it was worth a shot. According to Grandma Great there was "a whole mess of Messers" so I knew I was in for quite the task. I remembered the name John from previous stories and luckily I was able to find him in the mess.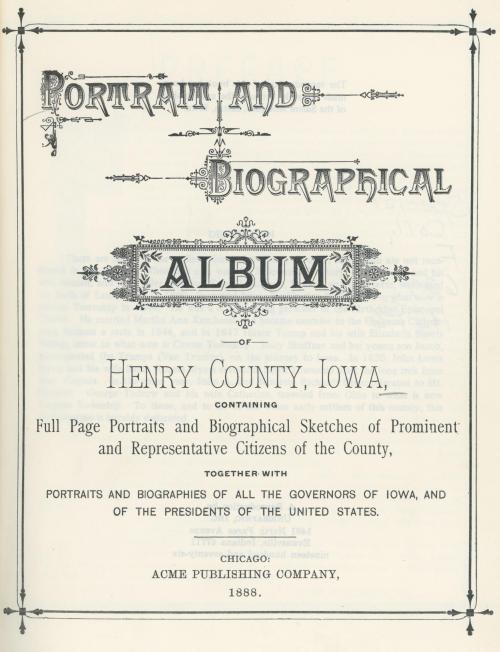 I learned that John Messer (my 5th great-grandfather) was one of the pioneers of Henry County. He also enlisted into the army during the Civil War but never saw any action. All that may sound grand but the sentence that hit me the hardest was "among the honored names of the pioneer settlers, that of John Messer ranks among the first," (1976, 329) This is a county that is called home by U.S Senators, scientists, and war heroes. My ancestor was just a simple farmer on the open Iowa prairie who was deemed important enough to be immortalized in the bounds of this book due to his character. 
In his biography it mentioned the plot of land my family owned in the township of Trenton. SC&UA also has a collection of plat maps which allowed me to find roughly where their farm used to be. Whenever I asked Grandma Great where the farm used to be on the way to church she would say, "I think it's somewhere over yonder by that creek," as she would lift an inaccurate finger to the horizon. I discovered that the land is now occupied by another family but now every time I drive by, I know my family's connection to it.
    Like me, you may be able to discover stories of your family's past. SC&UA has biographies and plat maps from all 99 counties in Iowa. If you can't find any family history in one of those sources, maybe you had a relative that went to UNI in the past. SC&UA keeps registrar documents as well as information about clubs and other extracurricular activities. I've been able to help others discover their family history at SC&UA and the joy that comes across their face never gets old.
Contributed by SC&UA student assistant Nicholas Steffens, April 2022