Introduction
One of the most memorable experiences for many young adults in the past, as well as today, is leaving home for the first time and moving to college. As freshmen, students must learn new rules, meet new friends, and adjust to a different way of life. The artifacts and photographs in this display show some of the activities and traditions of the freshman year at UNI.
These incoming State College of Iowa freshmen pose for the camera during summer orientation and registration around 1965.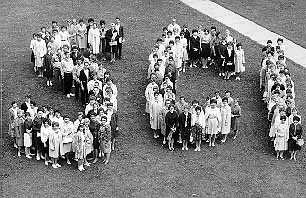 UNI was named the Iowa State Normal School from 1876-1909; the Iowa State Teachers college from 1909-1962; the State College of Iowa from 1962-1967; and UNI from 1967 to the present.
Learning About Campus Life
Handbooks
Student handbooks contain a great deal of useful information for the incoming freshman, such as a calendar of events, a description of the campus, a list and description of organizations, and many rules and regulations.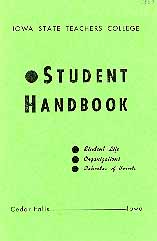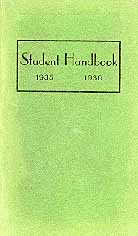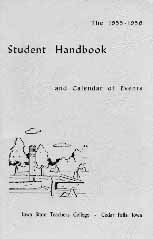 In an attempt to help students understand that they were in new surroundings, one early handbook stated that high school emblems could not be worn on campus.
Branches of student government also prepared and distributed guidebooks aimed at particular segments of the campus population. They contain much of the same information found in the student handbooks, but they get into other matters as well. Campus Life, distributed by the Women's League in 1939, outlines the rules for freshman probation, a tradition on campus for many years.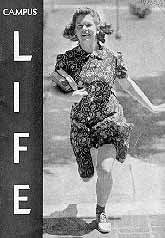 Men's Union prepared a similar booklet in 1956.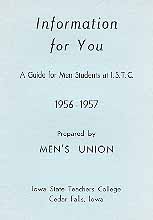 Campiquette (1938) and Good Form are etiquette and social usage handbooks.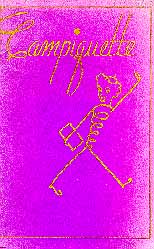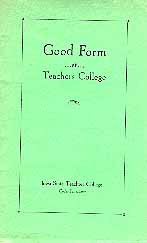 These books include rules and recommendations about dating; going to parties, receptions, and class; and appropriate attire. One rule about public places states that "it is not considered good form for a couple to walk arm in arm" except where the terrain is bad.
Rules and More Rules
Freshmen had to learn many new rules after arriving on campus. Many of the rules referred to freshman probation. This probation period extended anywhere from one month to one year. It was a time for the upperclassmen to orient freshmen to campus life, whether it was through hazing or through organized activities that allowed the green students to get to know one another.
Freshman probation changed over time. An important part of the tradition began on March 21, 1923, when freshman men were required to wear green beanies and women green armbands. Letters standing for the students' areas of study were printed on the green attire. Freshmen had to wear the caps and armbands from 7:00 AM until 6:00 PM every day, except Sunday, and they could not be found without them. As the student newspaper, the Normal Eyte, stated, any freshman violating this rule "will be subject to any penalty the upper classmen decide to inflict."
The following list includes rules from a variety of sources from the 1920s through the 1950s.
Rules for Freshmen:
All freshman men must sit in a section reserved for them at football games and must be on time.
Freshmen may not use the diagonal walk from the Auditorium (Lang Hall) to the corner of College Street and 23rd Street.
All freshmen must address upperclassmen as "Mr." or "Miss".
Freshmen using the reading room of the library must sit in the center section of the room, not the corners.
Freshmen must dance every dance at the Monday night Rec Dances.
Freshmen must wear their caps and armbands from 7:00 AM to 6:00 PM, Monday through Saturday. They must be worn in Cedar Falls at all times except Sundays, inside buildings (for caps), and to dances.
The length of freshman probation varied through the years. First, they were to wear the attire for only four weeks; later, they had to wear the articles until homecoming or Thanksgiving. At one time the students wore the caps and other prescribed attire all year long, except during the winter months.
After a few years, male students no longer had to wear green caps. Instead, only the women wore distinguishing garb. In addition to the original armbands, women also wore other variations including buttons, turbans, handkerchiefs, green caps, and purple caps to identify themselves as freshmen. This photo is of freshmen in their caps at the annual watermelon feast.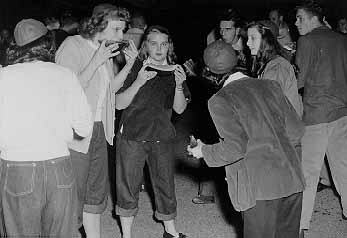 One penalty upperclassmen inflicted upon freshmen was tossing them into Prexy's Pond. Prexy's Pond was located east of Russell Hall, where the Business Building is currently located. This photograph shows students jumping into the pond during a spring celebration in 1957.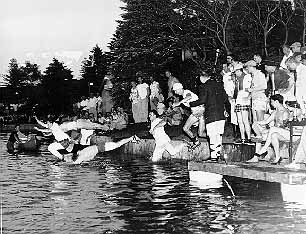 Before 1952, men were dunked in the pond, allowed to take a hot shower, and then treated to refreshments in Stadium Hall, where most male, first year students lived at that time.
Placement Tests
Freshmen were once required to take placement tests before or during their first semester on campus. The tests were used to determine the students' abilities and were not considered in the admissions process. These students are testing in the East Gymnasium in 1948.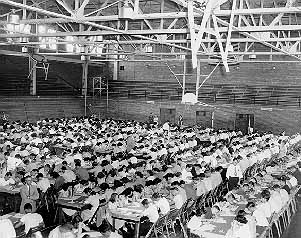 Freshman Week
Freshman Week was a time for orientation of new students. This program outlined the events for this week.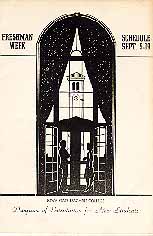 Registration and Orientation
This syllabus for freshman orientation was created by the Women's League in 1938.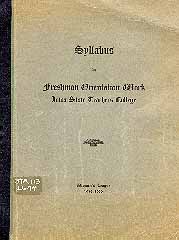 It is a detailed plan for orienting new students, women in particular, to campus life.
Here students are registering for classes during orientation in 1956.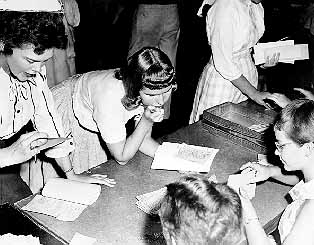 Long before the days of computerization, students registered using cards such as this one from 1925.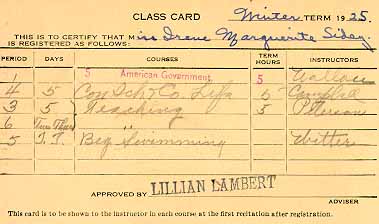 Entertainment
Another event during freshman week was the watermelon feast. Here four women enjoy the fresh watermelon.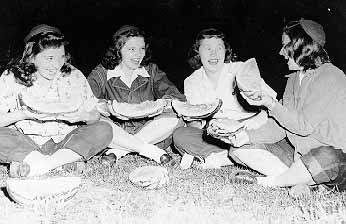 Note that each head is adorned with a cap.
Watermelon Feast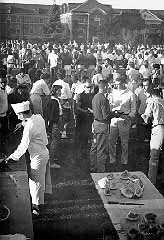 Freshmen entertained faculty and upperclassmen at the annual Frosh Night. Here one student performs at the 1956 orientation talent show.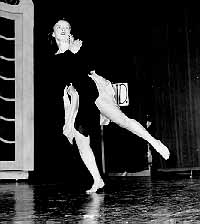 These students are all heading to the freshman Chuck Wagon Picnic.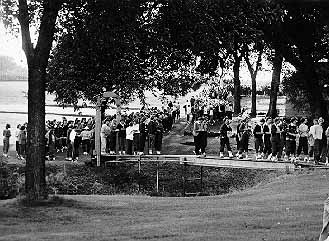 This annual picnic for women was held on the old UNI golf course on the southeast corner of University and Main. Instead of a picnic, the men attended a dinner in the Commons.
The End of Freshman Probation
De-capping Ceremony
The highlight of the freshman's first semester (or year as was sometimes the case) was the de-capping ceremony. At this light- hearted ceremony the students were allowed finally to discard their beanies. This photograph shows women preparing to remove their caps.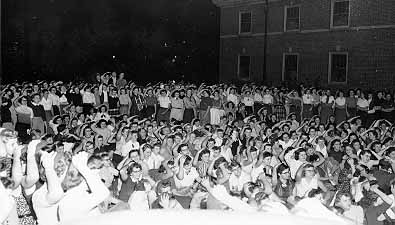 Following one ceremony in 1953, women built a bonfire and unceremoniously burned their beanies.
These two students are poised to toss their multicolored beanies in 1956.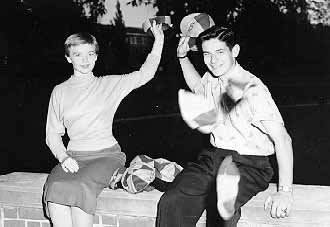 Freshman Record
Most of the old-time freshman traditions ended long ago, but at least one new tradition had been established, despite being short lived. Freshmen from 1983 to 1999 had the opportunity to mail their senior pictures to UNI to be published in the Freshman Record. Along with the photo, a student's name, hometown, major, and favorite hobbies are listed. For more information on the Freshman Record, visit SC&UA's Freshman Record, 1983-1999.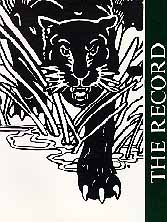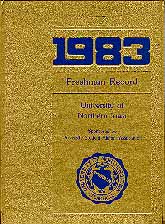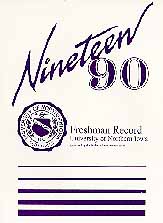 Compiler:
Exhibit prepared by Susan Witthoft; Web version prepared by Gerald L. Peterson. 
Special Collections and University Archives
November, December, 1996; updated May 2020