The following page is a web version of an actual Special Collections display that was featured in September and October 1998.  Please note that some images below are linked thumbnail images. Click on these small images to see the enlarged image.
Victory is Ours!
The first UNI football team consisted of eleven adventurous men led only by team captain J.C. Sanders. A benefit was held that fall to raise money for their uniforms.
The team played its first football game on October 19, 1895 in Cedar Rapids. UNI defeated Coe College 12-10 that day with two touchdowns. Conway, who made the last UNI touchdown, threw the ball over his head after crossing the goal line, much like players do today.
That season, UNI went 1-2, losing games to Lenox College and Upper Iowa University. After the game with Lenox, the student newspaper explained their loss this way:
"...we wish to state that two of our men had never played in a match game before. Besides, we hire no coach or trainer. We state this because of the simple justice due our team."
A Rough Sport
Football was not played at UNI in 1906 and 1907 because the sport was deemed "...too severe to be played at the institution." This decision, made by the Normal Athletic Board, prompted many male students to register at other schools in order to play football. One student newspaper article, written in September 1907, stated that "Boys are scarce at the Iowa State Normal this term."
An editorial in the September 19, 1906, student newspaper described a new, accepted way football could be played. It included a social time with the opposing team on the field before the start, calculating a cube root of a number instead of tossing the coin, and moving the ball down field required correctly naming the geological period of a fossil held by the umpire. The article closed by saying, "the game as played by these rules is interesting, clean and sportsmanlike."
FAREWELL ODE TO FEETBALL
Kick 'em, bite 'em, siss! boom! bah!
Send the doctor bill to pa,
'Leven, forty, eighty-two,
Look out, Bill, he's coming through!
Bust his ribs and break his neck;
Gee, kid, I'm a lovely wreck;
Blow the whistle, call the doc,
The quarterback has lost his sock.
Buck the tackle; five to gain;
Gosh! my collarbone does pain;
Fourteen, ninety, twenty four,
Kick 'em in the nose once more.
Honest, Buck, now ain't that great?
Cave his slats with all your weight.
Kick 'em, bite 'em, siss! boom! bah!
Ship my coffin back to ma.
The Teams
The UNI Panthers were known as the Normals when the school was called the Iowa State Normal School. While UNI was the Iowa State Teachers College (1909-1961), they were alternately called the Tutors and the Panthers.
UNI Coaches
The 1895 and 1896 Normal School (UNI) teams had many talented players. But because they had

no coach, they lacked teamwork. It was not until 1897 that a coach was hired for the team. Coach Fred Wolff led the team to a 5-1 record that season.
UNI has had 24 coaches in 103 years of football. Although many of them stayed for only one or two seasons, coaches like Clyde Starbeck, Stan Sheriff, Terry Allen, Mike Dunbar, and Mark Farley were at UNI long enough to make a strong impact on the program.​



For a list of season records and all the football coaches, click here: https://en.wikipedia.org/wiki/List_of_Northern_Iowa_Panthers_football_seasons
The Gridiron
Until 1976, all football games were played on an outside field. Early football games were played on a field west of the East Gym and south of Bartlett Hall.

Today, Rod Library sits on the southern end of this field and the East Gym pool on a portion of the northern end.
Then in 1936, the school's first outdoor stadium and athletic field was completed.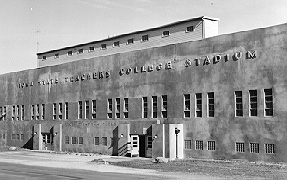 West side of Latham Stadium near what is now Hudson Road.
The Stadium at one time also housed male students.
O.R. Latham Field, named for former UNI President O.R. Latham, was used for football contests and other athletic events, commencement ceremonies, concerts, and a host of other events.


Latham Field consisted of the east and west stadiums, football field, and outdoor track.
The stadium contained the only indoor running track at that time.
In a 1981 Northern Iowan article, Head Track Coach Lynn King described it as "...a dirty, smelly place."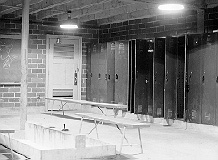 Latham Stadium locker room. The structure
also had ample storage and office space.
Latham Field was used for football games through 1975. The following year the UNI-Dome was completed.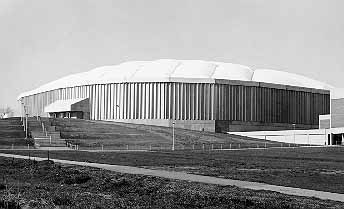 This multi-purpose building was used for the same type of events at Latham Field. However, this covered structure has a controlled environment, making it comfortable even when it is cold and rainy outside.
UNI vs. Iowa Universities
Although the UNI football team's most known intrastate rivals are the University of Iowa and Iowa State University, we have competed against many other institutions over the years. The long list includes Coe College, Cornell College, Grinnell College, Upper Iowa University, Iowa Wesleyan, Loras, Luther College, Drake University, Buena Vista, and Augustana. Many of these teams first played UNI in the late 1800s or early 1900s and last competed before 1940.
UNI vs. University of Iowa
17 games: won 1, lost 16
First game 1898, last game 2014
These two teams first met on the field in 1898, with UNI defeating Iowa 11-5. This is the only time UNI has beaten the University of Iowa in football. The largest point spread between the two teams came in 1914 when UNI lost 95-0.

UNI vs. Iowa State University
31 games: won 6, lost 22, tied 3
First game 1899, last game 2017
UNI and ISU have competed 31 times on the football field and have had many close games. UNI managed to slip by Iowa State six times in its history, the first time in 1900 with a score of 5-0. Ninety-two years passed before the Panthers defeated the Cyclones again, this time 27-10. Then in 1994, UNI won by a score of 28-14. In 2007 they won 24-13, in 2013, 28-20, and in 2016, 25-20. The largest point spread between the two was 52 points in 1902 (ISU 52, UNI 0).
The first televised Panther football game was played in September 1978 against Youngstown State. The Panthers lost this historic game, broadcast on ABC, 14-31.
The player who has scored the most touchdowns in one season is Jeff Stovall. He had 17 touchdowns in 1993. Stovall also tops the list of career touchdowns with 44.


Jeff Stovall
The most touchdowns scored during one game is four. Six individuals have achieved this feat: Art Landau (1953), Dick Beetsch (1954), Randy Schultz (1965), Terry Allen (1976 and 1978), Kelly Ellis (1977), and Dedric Ward (1995)
The first night football game was held October 2, 1948 against Drake University. Lights had been installed at Latham Field earlier in July. Only one other night game was scheduled that year.
UNI has played in two bowl games. In 1960, UNI lost to Hillsdale College 6-17 in the Mineral Water Bowl. In 1964, UNI defeated Lamar Tech 19-17 in the Pecan Bowl.
Compiler:
Actual display and web version created by Susan A. Basye September 1998; November 1998; updated October 2017 by Library Associate Dave Hoing