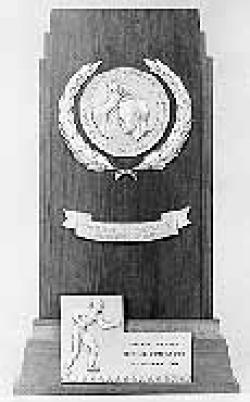 ---
In 1978, the Panthers hosted and won the 16th Annual NCAA Division II Wrestling Championships in the UNI-Dome.  The Panthers totaled 124 points en route to their second Division II championship in four years.  The Panthers were able to defeat two time defending team champions California State Bakersfield by 24 points.
Each wrestler seemed to struggle a bit throughout the championships, but in the end they were very successful.  Seven individual wrestlers, many of whom seemed to be dealing with some type of injury, placed in the top four of their respective divisions to give the Panthers the title. 

Gary Bentrim won at 158 pounds, which was his third consecutive title. He was only the third wrestler in Division II history to accomplish this feat.
Keith Poolman (left) won at 167 pounds, while teammate Kirk Myers (right)

, a freshman, won at 190 pounds.
Dave Prehm was able to capture a second place finish at 118 pounds.  Dick Briggs won third place at 150 pounds.  Kevin Finn and Joe Gormally each took home a fourth place finish at 134 pounds and 177 pounds.
Coach Chuck Patten also received the Division II Coach of the Year award after the Panthers won the title.  Patten was very happy with the victory, since the Panthers had been in a position to win the championship the previous year, but ended up faltering late in the tournament.  "It feels good to win," said Patten, "because all of our guys pulled together.  This is what it's all about."
Compiler:
Compiled by Student Assistant Jonathan Russell; edited by Library Assistant Susan A. Basye, May 1997; last updated, January 22, 2014 (GP).