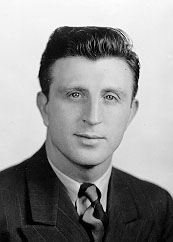 Dave McCuskey began coaching wrestling at the Iowa State Teachers College in 1930, after Paul Bender took a leave of absence to continue his education.  He coached through the 1952 season, when he left to become Head Coach at the University of Iowa.  During his twenty years at UNI, he accumulated 102 wins and only 31 losses.  He coached forty All-Americans, seventeen NCAA Champions, and five Olympians.  His team also won the 1950 NCAA Championship.
During his first season as Head Coach, nine wrestlers placed at the Midwest AAU meet:
Champions
Jesse Arends - 126 pounds
Finn Eriksen - 135 pounds
Maynard Harmon - 147 pounds
James Luker - 175 pounds

Second Place Winners

John Brindley - 135 pounds
Clarence Johnson - 147 pounds
Orville Orr - 160 pounds
Ward Chambers - 175 pounds
Owen Ralston - Heavyweight
Three wrestlers also placed at the National Collegiate Athletic Association meet in Rhode Island:  Jesse Arends won second place at 118 pounds; Orville Orr placed third at 155 pounds; and Finn Eriksen placed fourth at 135 pounds.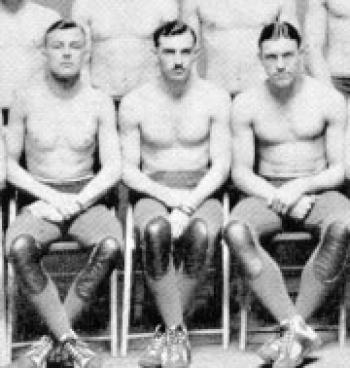 Jesse Arends (L) and Orville Orr
(R) with teammate Glenn Shearman.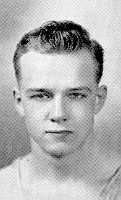 By 1934, the Teachers College had gained a good deal of  experience in intercollegiate wrestling.  They placed for the first time at the NCAA tournament, tying for seventh place.  Then in 1937, they again placed at the NCAA championships, although this time tying with the University of Minnesota for third.  This year was also a landmark because Ray Cheney (right) became the first Teachers College wrestling champion.  He placed first at 135 pounds.
The highlight of the 1940 season was a major defeat of one of Teachers College's biggest rivals, the Iowa State Cyclones.  The Teachers College beat the Cyclones, 17-13, the first time since the two had begun competing in 1924.  This win also helped TC win the figurative Iowa State Championship.  They won this championship by beating the University of Iowa 15-9, Cornell 15-11, and Iowa State.
World War II greatly influenced the 1942 through 1945 seasons.  During the 1941-1942 season, low turnouts for wrestling teams prompted athletic officials to rule that freshmen could compete at the varsity intercollegiate level.  For freshman Bill Koll, this ruling allowed him to compete at the AAU tournament and win first place in his division.  The Teachers College also won the state AAU tournament that year and took home two additional individual titles: Gerald Leeman (left) at 128 pounds and Leon Martin (center) at 175 pounds. Bill Koll (right) earned first at 135 pounds.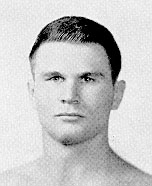 As the intensity of the war increased, more students and faculty members left the Teachers College to join the war effort.  Coach McCuskey joined the Navy as a Lieutenant and instructor at the Navy Preflight School at Iowa City, Iowa.  Baseball coach Lawrence Whitford was set to coach the wrestling team in McCuskey's absence, but he also entered the armed forces.  Football coach Clyde "Buck" Starbeck coached the wrestling team on to two wins against Michigan State and Iowa State, and a tie with the University of Minnesota.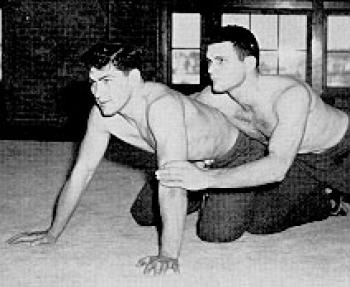 "Pudge" Camarata (L) and "Champ" Martin (R).
No wrestling, or any other intercollegiate sport, was organized the following two seasons because of the war.  Once the war ended, and Coach McCuskey returned, wrestling at the Teachers College became more successful than ever before.
The seasons from 1946 through 1952 could be called the college's best winning seasons.  During those seven seasons, the ISTC team placed each year in the top four at the NCAA tournament and had sixteen individual national champions.
ISTC Team Placings at NCAA Championships, 1946-1952
1946 2nd place
1947 2nd place
1948 4th place
1949 2nd place
1951 4th place
1952 2nd place
The Teachers College also won the 1949 and 1950 National AAU championships.
Coach McCuskey produced four outstanding wrestlers who won multiple individual championships during this time period.
Bill Koll - Champion at 145 pounds in 1946 and 1947, and at 147.5 pounds in 1948;
Bill Nelson - Champion at 165 pounds in 1947, and at 155 pounds in 1949 and 1950;
Keith Young - Champion at 145 pounds in 1949 and 1950, and at 147 pounds in 1951.
Bill Smith - Champion at 165 pounds, 1949 and 1950. 1952 Olympic gold medalist in the freestyle wrestling welterweight class.
Coach Dave McCuskey resigned in 1952 and turned the wrestling team over to alumnus Bill Koll, one of his outstanding wrestlers from the late 1940s.
Compiler:
Compiled by Library Assistant Susan A. Basye, June 1997; updated, January 22, 2014 (GP). Updated by Library Associate Dave Hoing, March 2018.