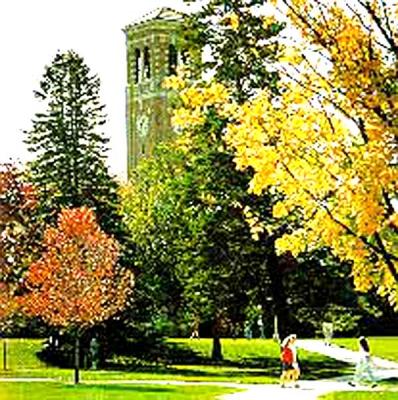 ---
This page consists of two lists. First, there is a list of faculty, students, and staff who have played the chimes, and, later, the carillon, on a more or less regular and assigned basis. This list was gleaned from Campanile log books, student newspapers, and other campus publications. It is only a partial list, due to gaps in records. There is a certain amount of chronological ambiguity to some of the entries. If this list includes a player and a date, then there is documentary evidence that he or she played sometime during the stated period. But he or she may well have played at other times as well. There is also some unevenness to the entries. Some players performed long concerts on a regular basis; others played only short selections now and then.
The second list consists of a selection of special Campanile concerts and performances that have occurred over the years. Certainly, other significant concerts have taken place, but this list includes many of the highlights.
---
Chimers and Carillonneurs
Fall 1926: Irving Wolfe, Luther Richman
Spring 1927: Pauline Johnson
Summer 1927: Frank Swain
Fall 1927: Irving Wolfe
Fall 1927-Spring 1928: Doris L. Anderson, Norma Chase
Summer 1928: Frank Swain, Edna Wolfe
Fall 1928 -Summer 1929: Frank Swain, Gladys Arns
Fall 1929: Harry M. Kauffman
Fall 1929-Summer 1931: Myrtle Kleist
Fall 1929-Fall 1933: Lois Roush
Summer 1931: Gretchen Rausenberger
Fall 1933-Summer 1934: Ralph Moritz
Spring 1934-Winter 1935: Fred Feldman
Winter 1935-Summer 1936: Dorothy Oelrich
Summer 1935; Summer 1936: Lois Bragonier
Summer 1935: Marjorie Palmquist, Fred Feldman
Summer 1936: Harriet Todd
Fall 1936: Fred Feldman, Ralph Moritz
Fall 1936-Spring 1938: James Dycus
Summer 1938: J. Wesley Pritchard, C. Campbell, Floyd Johnson
Fall 1939: Doy Baker
Spring 1939: James Dycus
Summer 1940-Spring 1941: Myron Messerschmitt
Spring 1941: Warren Smith
Summer 1941-Spring 1942: William Jochumsen
Fall 1942: Russell Calkins
Winter 1942-Spring 1943: Norman Paul Dearborn
Spring 1943: Rupert Pipho, Joan Doon, Lester Bundy
Summer 1943: Russell Calkins, Owen Norman
Fall 1943-Spring 1945: Val Jeanne Fairlie
Summer 1945-Spring 1947: Lucile J. Craig
Summer 1947-1951: Unknown
1951-1952: Don Jackson
1953: Frank Plambeck
Summer 1953-Spring 1955: Laurens Arthur Blankers
1955-1956: Curtis Noble
1956: Robert Wade
Summer 1958-1960: Don Peterson
Winter 1962-1963: Keith Haan
1964-1965: Leroy James LeFebvre
1966:  Bruce Eilers
1968-1969: John Steffa
1969: Jerry Smithey, Robert Lodine
1971: Douglas D. Shaffer
1973-2004: Robert Byrnes
2005-2006: Kui-Im Lee, Trevis Young, Jung-Min Lee, Mary McDonald, Kimberly Cordray
2007-2008: Kui-Im Lee, Danny White
2008-2010: William R. Beyer, Isaac Brockshus
2011-2012: William R. Beyer, Joyce Payer

Special Performers and Concerts
September 19, 1926--first concert on Campanile chimes, given by Andrew Meneeley, president of the Meneeley Bell Company at the Campanile Dedication Ceremony
October 19, 1968--concert by Wendell Wescott, Carillonneur at Michigan State University, to dedicate the renovations and additions to the set of bells
November 26, 1968--impromptu concert by Milford Myhre, Carillonneur of Bok Singing Tower at Lake Wells, Florida
May 9, 1971--concert by Robert Lodine, Carillonneur at St. Chrysostom's Church, Chicago, Illinois
September 21, 1971--concert by Albert Meyer, Carillonneur at Emery Merial carillon, Mariemont, Ohio
September 23, 1973--concert by Richard H. von Grabow, Carillonneur at the Iowa State University campanile in Ames, Iowa
December 3, 1974--first time the Campanile was used to accompany the UNI Glee Club--carillon played by Jeff Stearns of Rockwell City, Iowa, and Terry Kroese of Sheldon, Iowa
October 12, 1975--concert by Richard H. von Grabow, Carillonneur of the Iowa State University campanile in Ames, Iowa, and UNI Carillonneur Robert Byrnes
June 24, 1976--concert by Leen't Hart, Director of Carillon School in Amersfoort, Netherlands
May 8, 1977--UNI Carillonneur Robert Byrnes performed his master's degree recital
June 23-24, 1980--five formal concerts by visiting carillonneur during the Congress of the Guild of Carillonneur in North America, held at UNI
September 7, 1985--concert by Robin Austin, carillonneur at Grace Episcopal Church in Plainfield, New Jersey
September 13, 1986--concert by Frank Dellapenna, carillonneur at the Washington Memorial Chapel in Valley Forge, Pennsylvania
October 24, 1992--Karel Keldermans and Robert Byrnes presented a Dueling Bells concert
October 8, 9, 2004--Karel Keldermans performed for Homecoming activities
April 27, 28, 2006--Karel Keldermans and organ students performed recitals
September 18, 2006--Karel Keldermans performed for the eightieth anniversary of the Campanile
Mid-October, 2007--Kui-Im Lee performed for Homecoming
Mid-October, 2008--Kui-Im Lee performed for Homecoming
April 24, 2009--Karel Keldermans performed a spring concert, including a piece written by former UNI carillonneur Robert Byrnes entitled "Reflection"
Compiler:
Compiled by University Archivist Gerald L. Peterson; last updated September 6, 2011.