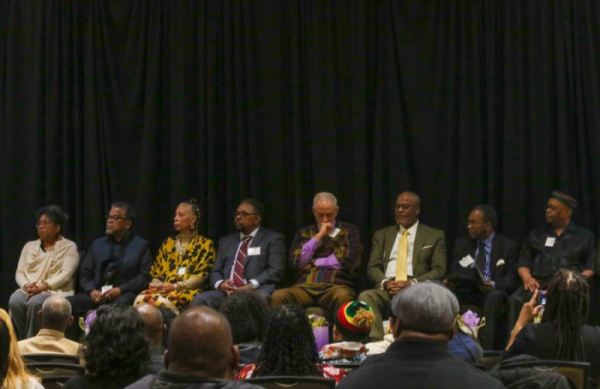 Given the current civil unrest related to police brutality and race-based violence in the United States, I would like to share some resources and information related to student protests on campus in the late 1960s and early 1970s, with a key group of student activists often referred to as the "UNI 7." Special Collections & University Archives holds many records related to these events. While the primary sources in our collections cannot tell the whole story, I hope our readers may find this highlight of interest as it provides some historical context for civil rights activism in the Cedar Valley, and as it relates to today's world as we continue to see instances of social injustice. 
Many people in our university community may have heard about the UNI 7. In fact, earlier this spring, the University recognized the UNI 7 and the 50th anniversary of the peaceful protest that led to the creation of the Center for Multicultural Education. I had the pleasure of serving on the planning committee and had the opportunity to learn more about this history and meet these former students in person. 
For those of you who are unfamiliar with this group and these events, some background information may prove beneficial. The Center for Multicultural Education offers this historical overview of the peaceful protests and events that led to the ultimate creation of the CME. Researchers can also consult a variety of resources in SC&UA to learn more detailed information from the time of these events. One good resource to consult is our university publication index database, IndexUNI. Even while the library is closed due to COVID-19, you can still use IndexUNI to identify sources across university publications, such as the student newspaper and alumni magazines. Some of this content has been digitized, but for the ones that have not, you can see the citation and we have the print materials in the archives, which we will be happy to digitize upon request.  
For example, in a Northern Iowan article published Monday, November 8, 1968 researchers will find an early example of the Afro-American Society's long history with the administration at UNI. The Society submitted six proposals to the University Committee on Minority Group Education, which included a culture house on campus, a student recruitment program, naming a building after Dr.Martin Luther King, additional African-American faculty, African-American entertainment, and a scholarship fund drive.
Researchers can search IndexUNI for specific names of people and organizations, and you can also browse by proper names and subjects, which is a great way to review a variety of relevant material. For example, you can browse all of the articles that mention one of the UNI 7, Palmer Byrd, the Afro-American Society, and Student Protests and Demonstrations. Researchers can then dig into the results from these subject searches to find relevant information about the UNI 7, the sit in, and related people and events
Researchers can also find a story in the summer 1970 UNI Quarterly publication by Jan Johnson, called "Speak Out: Insight into the Seven." The author writes about this sit-in at President Maucker's house and the resulting hearing, including some photographs. Johnson muses:
As I sat there becoming almost numb to the screams and cries of students in the anteroom and to the useless rhetoric of the hearing I thought about how this all came about. Had it started with the constant and tedious efforts of Palmer Byrd (one of the "7") to get positive action on the house; was it Ann Bachman's suggestion that we establish a culture house; did it start with Henry Johnson's proposals at the beginning of fall semester; had it started when black students were first admitted to UNI; was it the black movement that caused it; how about the emancipation proclamation; had it been caused by the rape of Africa of her men and women; or was the UNI "7" the necessary consequences of white apathy in a time of black demand for freedom? (2-3)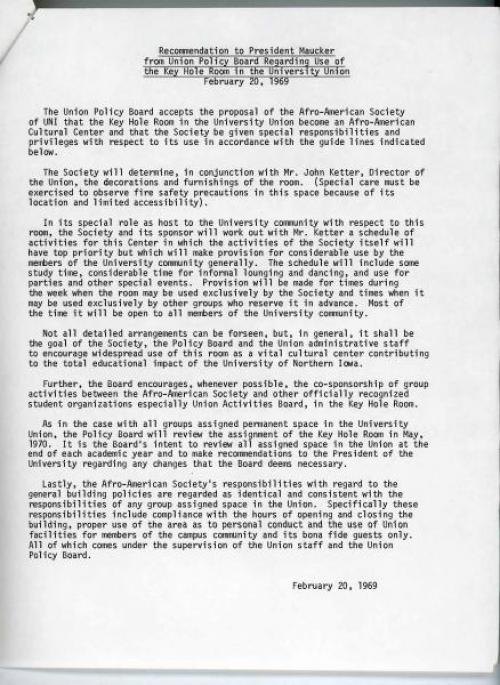 In addition to hearing student voices through these publications, researchers can gain access to first hand accounts of University leadership, faculty, and staff in President Maucker's papers (University Archives Record Series 02/05/01). In particular, boxes 28 and 29 include things like memos, correspondence, reports, etc related to the Afro-American Society's work to establish a space on campus, the sit in, and related events and individuals.
For example, here is a document that was attached with correspondence from John Ketter, former director of the union, from February 1969. This document details the Union Policy Board's acceptance of the Afro-American Society's proposal to establish the Key Hole Room in the union as the Afro-American Cultural Center.
Another example is this excerpt from a panel discussion at the 1996 Maucker Union Expansion event, which celebrated the anniversary of the Ethnic Minorities Cultural and Educational Center. Notes from this panel discussion provide summaries not only of President Maucker's remarks about the attempts to create a Black cultural space on campus, but they include summaries of remarks by Tony Stevens and Terry Pearson Stevens, who are two of the UNI 7.
Researchers may also read about these events and the individuals involved in William Lang and Daryl Pendergraft's book, A Century of Leadership and Service: A Centennial History of the University of Northern Iowa, Volume II. Both volumes of this work present a comprehensive history of UNI from the perspective of the faculty and staff authors, from the school's founding through 1976. Copies are available for check out in the regular stacks and for use in the reading room in SC&UA.
This piece of UNI's history is rich and complex, and we do not presume that we can offer a comprehensive history of this activism, the sit in, and the UNI 7. But we do know that a very useful way to better understand what has happened in the past is to consult the primary sources, and we encourage researchers to continue their work to learn about these events and other events which lead us to where we are today. The sources included here are just a start to the research you might conduct related to this piece of civil rights history at UNI. All researchers are welcome to make use of the myriad records in SC&UA!
Contributed by Joy Lynn, SC&UA Library Assistant, June 2020
References
Anonymous. "Six Black Proposals." Northern Iowan (Cedar Falls, IA), Nov. 8, 1968. https://indexuni.library.uni.edu/articles/90441
Crow, Katie. Image. "UNI Seven honored on 50th anniversary." Northern Iowan (Cedar Falls, IA), March 12, 2020. https://www.northerniowan.com/12604/showcase/uni-seven-honored-on-50th-anniversary/
Johnson, Jan. "Speak Out: Insight Into the Seven." UNI Quarterly 1, no. 4 (Summer 1970). https://scholarworks.uni.edu/uni_yearbooks/28/
Kamp, Erin. "UNI Seven honored on 50th anniversary." Northern Iowan (Cedar Falls, IA), March 12, 2020. https://www.northerniowan.com/12604/showcase/uni-seven-honored-on-50th-anniversary/#
James William Maucker Papers, 1920-2000. Record series 02/05/01, Boxes 28 and 29. University Archives, Rod Library, University of Northern Iowa. https://scua.library.uni.edu/classification-schedule/02-office-president...