Plans for some sort of visitor center were under consideration at least as early as 1982.  At that time, Director of Alumni Services Lee Miller announced a fundraising project for a flag display to be built near a proposed visitor center.  In 1983, Mr. Miller noted that some sort of display of UNI historical materials, such as the Central Hall bell, might even be included in the center.
Ultimately, the project took on a more modest scope.  President John Kamerick appointed a Committee on Visitor Assistance to help plan a campus visitor center.  After several years of work by the committee, construction began in the first week of August 1985, on the new Visitor Information Center.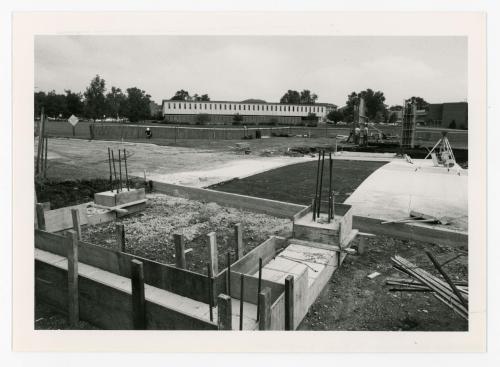 The architectural firm of Flinn, Saito, Andersen, and Devoe of Waterloo designed the building.  The initial estimate of cost was $101,000, but the final cost was $127,000.  The building opened for service in early July 1986.  Roger Eich was the first coordinator of the center.  In its first year of operation, the center provided assistance to over five thousand people.  Mike Hager managed a staff of six students in the center in 1988 and handled about fifty-five requests for service per day.  Staff gathered information by direct contact with UNI offices and from published calendars, bulletins, and newsletters.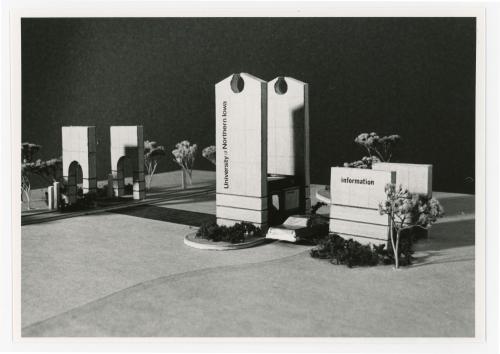 This small but distinctive limestone and brick building, with its flanking decorative structures and attractive landscaping, frames UNI's main south campus entrance along University Avenue.  It is designed to allow visitors to drive to an information window to receive assistance.  Staff in the center provide visitors with directions, maps, brochures, and temporary parking permits.
Compiled by Library Assistant Susan Basye and Student Assistant Julie Tilton; edited by University Archivist Gerald L. Peterson, September 1996; substantially revised by Gerald L. Peterson, July 2001; last updated November 10, 2011 (GP). photos updated and citations added by Student Assistant Nicholas Steffens, December 6, 2021