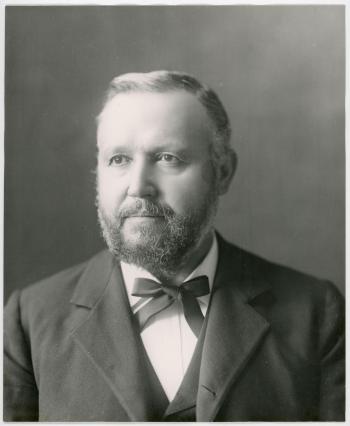 The University of Northern Iowa (UNI) has had many presidents over the past 146 years. So far, the president who has held the title the longest has been Homer H. Seerley, the second president of UNI (previously known as the Iowa State Normal School / Iowa State Teachers College). Seerley served as president for forty years from 1886 to 1928 and was motivated by his strong passion for education. Due to the length of time he was president, he made impactful decisions that helped evolve UNI into what it is known for today.
As president, his incoming and outgoing correspondence and other materials, such as reports, have been collected as the Homer H. Seerley Papers in University Archives. The papers touch on a wide range of subjects from concerns of World War I to administrative functioning to the American Woman Suffrage Association. With 146 boxes, this collection is split up into six different sections: Correspondence from H. H. Seerley, Official Correspondence Received by H.H.S, Board of Education, Copies of Correspondence, Addresses and Reports, and Newspaper Clipping Scrapbooks. Correspondence alone takes up 106 boxes in this collection! Due to the enormity of this collection, a card catalog for these papers was created and indexed to the item-level, to better help with location and organization.
Recently, I spent time rehousing the Seerley Papers to store the materials more effectively. I shifted the materials to fit closer together within the boxes to prevent damage such as folds, bends, and tears. This project was important since this collection is very old and has a mixture of loose leaf pages and bound books. While rehousing the Seerley Papers I couldn't help but admire the vastness of the collection and the quality of the materials. I spent some time examining Seerley's handwriting and found that his cursive is quite uniform and ornate. However, it is quite evident when he was in a rush because his handwriting gets thicker, messy, and drawn out, making it difficult to read. Either way, he somehow managed to write straight despite the paper being unlined. Only the first few boxes have Seerley's handwriting, the rest of the boxes are all typed, making this find even more special! The papers themselves are translucent and thin, like tissue paper, and are most likely mimeographs. Some of the ink has smudged and bled through the pages showing the age of the materials and the thinness of the paper. It greatly surprised me that these materials are in such good shape despite their age. 
While examining Homer H. Seerley's collection, it really made me think about all the memories these papers held. Not only from Homer Seerley himself but from all the people he worked with over the years, and those who have examined and housed these materials. To have a greater understanding of the vastness of this collection, visit the Homer Seerley Collection, as well as a travel journal by his father, Thomas Seerley. There is also a highlight about the Susan B. Anthony letter that was found in this collection! Whether you are doing research on UNI's past presidents or want to stop in and look at our materials, contact the SC&UA faculty and staff or make an appointment to visit SC&UA, located on the third floor of Rod Library!
Contributed by Library Student Assistant Katie Currier, April 2022.
References
Seerley Portrait, undated, in the Photograph Collection, PRE Box 1 Folder 8, record series #23, University Archives, Rod Library, University of Northern Iowa.
Letter from Homer Seerley to Henry Sabin, Sept.12, 1888, in the Homer H. Seerley Papers, Box 2, record series #02/02/01, University Archives, Rod Library, University of Northern Iowa.
Letter from Homer Seerley to C. Scribner's Sons Publishing Company, Sept. 19, 1888, in the Homer H. Seerley Papers, Box 2, record series #02/02/01, University Archives, Rod Library, University of Northern Iowa.