Plays of the Past
Did you know that the University Archives has over 30,000 photos? We digitize these photos for patrons upon request, and when I am not working on patron requests, I mass digitize photographs from the archives. Mass digitization or scanning makes it easier for future workers and patrons to access the materials online, as it will have already been scanned and available. I had to choose a box that had not been fully digitized and seemed interesting to me, so I picked out the plays done on campus. Plays are part of the Student Activities series in the photograph collection, which you can find in the Photograph Collection Finding Aid! I have made my way through almost the entire box, and I have seen many interesting photographs. There are multiple subseries within the plays section, including behind the scenes, production/studio work, and student staff.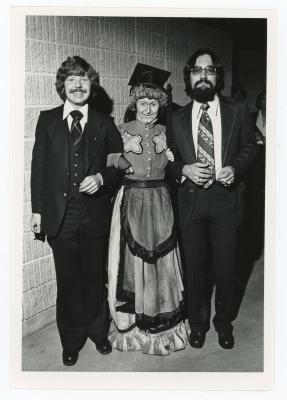 Behind the Scenes
The first subseries within the plays series consists of all of the behind the scenes photos from past productions. These include both posed and candid photos of the actors and crew. This subseries has a large amount of photos dated from the 1970s, though there are a few from even earlier!
The information on the back of this photo states: "these three speech-theatre majors were among the 1,000 graduates who received degrees in ceremonies May 14 on the University of Northern Iowa campus. Patricia (Tappy) Korthals of George fashioned her own commencement attire making a mortarboard to wear atop the bonnet and costume she had worn in one of the many Theatre UNI productions in which she appeared while a student at UNI. She also received a Purple and Old Gold Award for conspicuous achievement in theatre arts. She is flanked by fellow theatre graduates Don Conrad (left) of Brandon and Mark Scott (right) of Keokuk.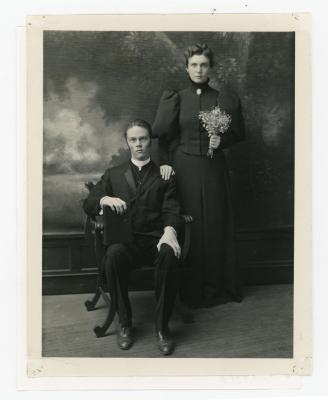 Labeled
This subseries includes all of the photos from plays that have been labeled with the production name. Many of these photos include shots of the actors on stage, running through scenes.
This photo was "taken in March, 1942 as publicity for the ISTC theater production of Candida by G.B. Shaw and directed by Hazel Strayer. Pictured are Roger Anderson as the Rev. James Morell and Ruth Miller as his wife, Candida." This photo was "submitted by Roger C. Anderson, B.A. 1943."
Play Production/Studio Work and Staff/Behind the Scenes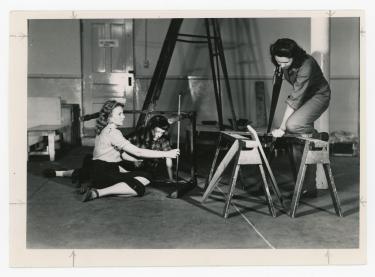 Play Production/Studio Work is the third subseries within the plays series, and it consists of students working behind the scenes on set pieces. Many of the students working on the pieces were part of different play production classes, so they were working on those set pieces for a grade!
The Behind the Scenes subseries only consists of three photographs, two from 1992 and one from 1976. These photos show people running lines together, a woman working on a costume for a production, and two men looking at a new logo for Theatre UNI.
These three students were working on set pieces in 1944.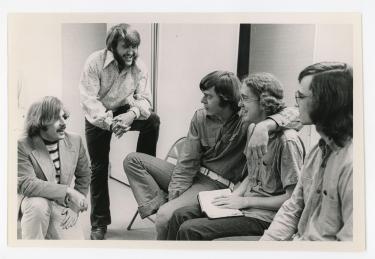 Student Directed
Did you know that some productions at UNI have been led by students? All of the photos from those productions are included in this subseries, with most of the photos ranging from the 1960s to 1970s.
"Directing a scene from their new play, "Ward Off the Snakes," are University of Northern Iowa seniors David Ure of Perry (kneeling left) and Dennis Harger of Cedar Rapids. Actors in the drama (seated left to right) are Craig Cook of Spencer, Mark Marevetz of Elma, and Charles Taylor of Milford. "Ward Off the Snakes" and four short story adaptations by Harger and Ure will be presented free of charge Wednesday through Saturday on the UNI campus."
Student Staff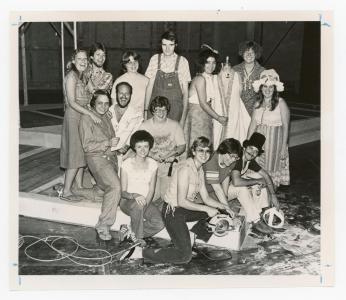 This subseries consists almost entirely of photos from 1977 to 1979. These consist of the students who worked on the year's productions. Their hard work made the production go smoothly and look polished, as they often worked on set pieces and costumes. 
These students were part of the student staff during the fall of 1978. Hopefully the person with the saw didn't often wear flip-flops while using it!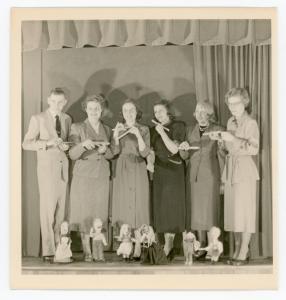 Unlabeled
The final subseries of the plays series consists of all of the unlabeled photos, and it is one of my favorites! These photos often do not have any information included on the back of them, and if they do it is normally just the date. I enjoy inspecting the different styles of outfits and scenery to try and figure out what year the photo was taken.
This photo has no information written down, so we have no idea why these people are acting with marionette puppets!
If you have any questions about the plays series, Photograph Collection, or Special Collections in general, feel free to contact us at libarchives@uni.edu and we will be happy to help you!
Contributed by Library Student Assistant Taylor Sandven, April 2022.