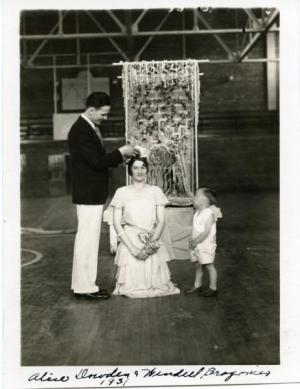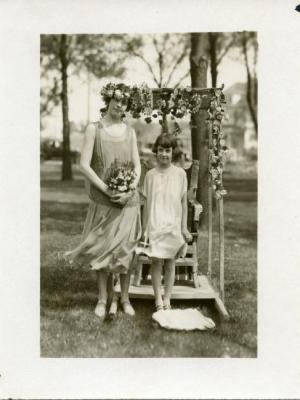 The University of Northern Iowa has had many special traditions over the years, some of which no longer take place and  have faded into memory. Special Collections & University Archives at Rod Library has many materials, like scrapbooks and programs, that help us understand these past traditions today. 
Beginning over 100 years ago, back when UNI was called the Iowa State Teachers College (ISTC), the campus held a May Day celebration each spring. Our school colors would really bloom as students celebrated May Day and its traditions. Some of the festivities included an outdoor ceremony, the crowning of the May Queen, a parade, outdoor activities, dancing around the May pole, floats, flowers, and a carnival. Spring time would blossom and call for some celebration! 
The first May Day celebration held by the university was in 1908.  From 1913 to 1934 ISTC had a May Queen as part of the festivities. The May Queen would sit on a throne, sometimes decorated in flowers, and occasionally be carried by her "royal court" to her throne. Another fun tradition was the May pole, which would be adorned with ribbons that twirling dancers would circle around until the pole was covered in a spiral of the colorful ribbon. The parade would consist of floats decorated in spring flowers. These floats were put together by classes or clubs and organizations. 
In October of 1934, this annual tradition came to a permanent halt in a resolution passed by the student council ("Council Vetoes May Day Fete"). Even though the tradition has ended, you can still glimpse into the festivities at SC&UA.
More information on additional springtime traditions at the University of Northern Iowa can be found in this essay, Spring Celebrations at UNI. And for a history on the May Queens of UNI you can check out May Queens, 1913-1934. For some more photos of the festivities you can see the Sybil Lincoln Gardiner and Florence Robinson collections. The Naomi M. Spies collection contains a May Day program as well, and President Latham's papers also provide a brief history of the festival with some programs.
Contributed by SC&UA student employee Raegan Christianson, April 2020.
References
"Council Vetoes May Day Fete," Friday, October 12, 1934 in the College Eye, University Archives, Rod Library, University of Northern Iowa.